If you or your child have an allergy or intolerance to dairy or gluten (or both), knowing what snacks you can safely eat can be time consuming and tricky. This list has 40 + gluten free and dairy free snacks for you to safely enjoy!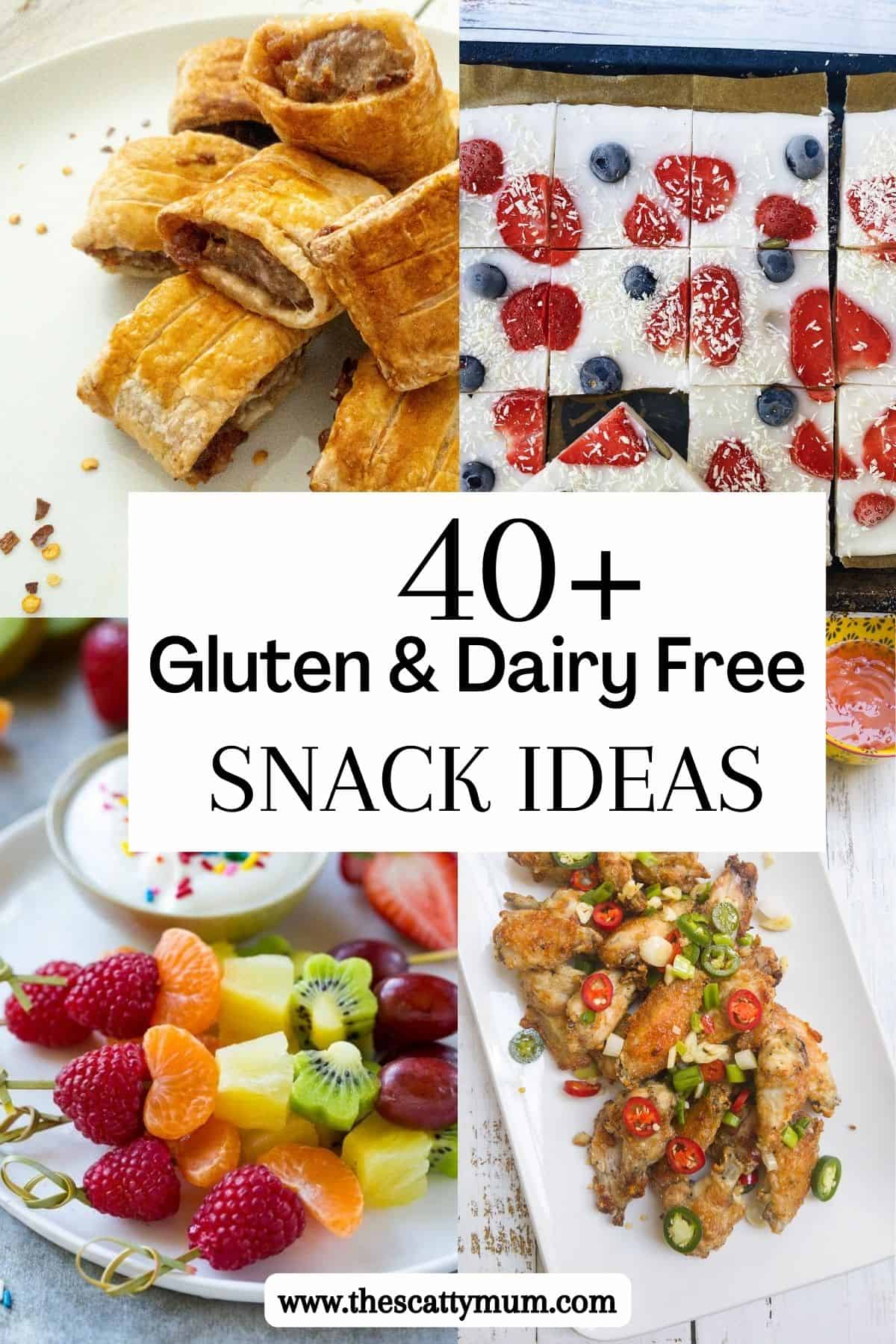 Jump to:
*Disclosure: This post may contain affiliate links - This means I receive a commission for purchases made though those links, at no cost to you. Please click here for further info*
✒️ Allergy Laws in the UK
In the UK, all food businesses that supply pre-packed food (like you buy at a supermarket) must clearly state on the food label all the top 14 allergens that are present in that product.
If you are eating out or are buying a loose food item (e.g at a bakery or butchers) the business must provide you with allergen information either by way of an allergy menu or they must be able to tell you verbally the ingredients in that particular dish.
From October 2021, thanks to Natasha's Law all pre-packed food for direct sale (food that is prepared and then packed on the premises, like a sandwich from Pret) must have the full ingredients on the label as well as the allergens highlighted.
🍿 Great Snacks For All
I have created this list of great snack ideas, all of which are both dairy and gluten free!
There is a mixture of shop bought snacks, healthy options & homemade recipes with both savoury and sweet options.
A lot of the homemade recipes can be batch cooked in advance so you can always have a safe snack on hand for when you need it.
Great for at school or after school snacks for the kids or that sneaky indulgent treat for you.
Lets face it, if you are a parent, snack time is all day long!
So if you have a milk allergy, are lactose or gluten intolerant or perhaps have coeliac disease, save this web page as a bookmark or pin it to Pinterest to refer to whenever you need it.
✏️ Snack Notes / Disclaimer
* Although the store bought options are correct at the time of publishing this article, manufacturers can change their ingredients at any time, so please always double check all packaging for allergens*
* If you have an anaphylactic allergy or coeliac disease you may also need to avoid "may contain" foods. This is because there is a risk of cross-contamination. The allergen is not actually present in the product but it has been made in the same factory as the allergens or even on the same production line*
🧁 Cakes & Sweet Treats
Here are some ideas if you have a sweet tooth. There are both homemade snacks and things you can grab from the shop.
1. Vegan & Gluten Free Banana Bread. (Homemade) - This banana bread is packed full of flavour and makes a delicious afternoon snack! Being vegan it is also egg free and dairy free too!
2. Banana & Blueberry Breakfast Muffins. (Homemade) - Perfect for a breakfast on the go, these egg free banana and blueberry breakfast muffins are light, healthy and taste divine!
3. Coconut & Date Energy Balls (Homemade) - These chocolate & coconut date energy balls (or bliss balls as they are sometimes known) are the perfect healthy make ahead snack. They are sweet, so tasty and unlike most date balls this version is also nut free!
4. Dairy Free Cranberry & Coconut Flapjacks (Homemade) - Sweet, chewy & crunchy flapjacks that make a perfect mid afternoon snack.They can also be made gluten free by using gluten free oats. Delicious with a cup of tea!
5. Vegan Wagon Wheels (Homemade) - These vegan wagon wheels are truly a next-level snack! Created with a gluten-free biscuit based on almond flour and filled with homemade raspberry chia jam and ready-made vegan marshmallows, wonderfully finished with a dairy-free chocolate layer.
6. Raisins are a brilliant snack for when you are on the go, as the small packet will fit easily into any bag.
7. Swedish Glacé ice cream makes a delicious afternoon snack - the vanilla flavour is our favourite!
8. Healthy Gluten Free Banana Muffins With Honey (Homemade) - These healthy gluten free banana muffins are naturally sweetened using honey and bananas. Perfect for an on-the-go breakfast, snack, or sweet tooth craving.
9. Healthy Chewy Granola Bars (Homemade) - Gluten-free Healthy Chewy Granola Bars packed full of oats, sunflower seeds, cranberries, flax seed, and chocolate chips, sweetened with honey!
10. Vegan Oreo Chocolate Brownies(Homemade) - These gooey vegan Oreo chocolate brownies are deliciously fudgy and super indulgent! A great treat to have with that afternoon cup of tea. Being vegan they are dairy and egg free too!
11. Dairy Free Frozen Yoghurt Bark (Homemade) - Ideal as a healthy snack or breakfast on the go, this dairy free strawberry & blueberry frozen yoghurt bark will certainly hit the spot! Great for those on a dairy free diet.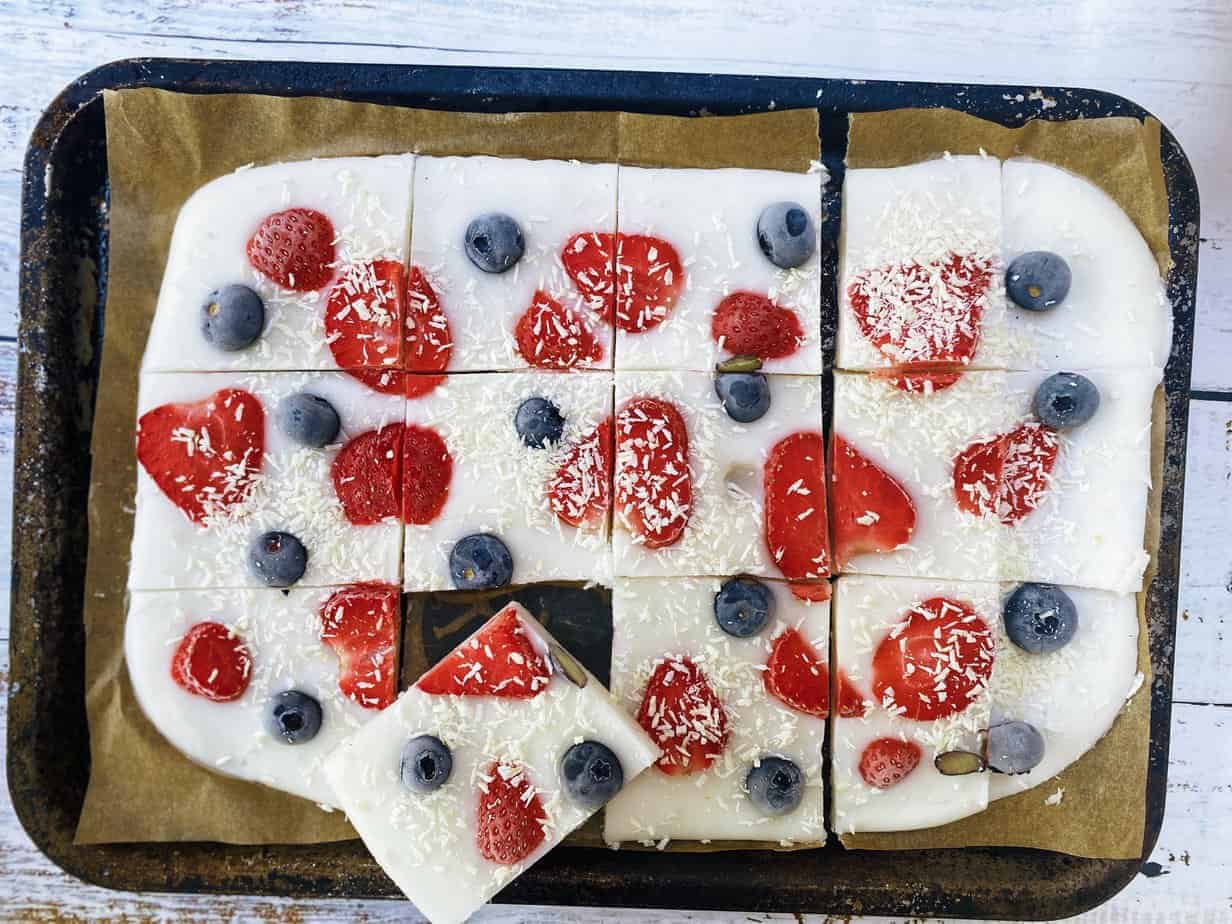 12. Banana Nice Cream (Homemade) - Delicious vegan banana ice cream with only one ingredient and no added sugars! Super easy to make, healthy & so tasty! Naturally dairy, egg and gluten free.
13. Coconut Clusters (Homemade) - Loaded with toasted coconut and dark chocolate, this easy recipe is great as a snack or a dessert alternative to cookies.
🥨 Crisps / Chips / Salty Snacks
14. Popcorn is a great snack option as its naturally dairy-free and gluten-free. Kids love it too. Are you a sweet or salty person?
15. Most tortilla chips are gluten free as they are made from corn, so are a great option for those on a gluten-free diet. Be aware though that some chips, like the Doritos original falvour do contain milk, so always double check the packaging.
16. Homemade BBQ Potato Chips/Crisps - Crispy homemade barbecue chips tossed in a spicy barbecue seasoning that are easier to make at home than you think! Recipes for baked potato chips and fried potato chips provided.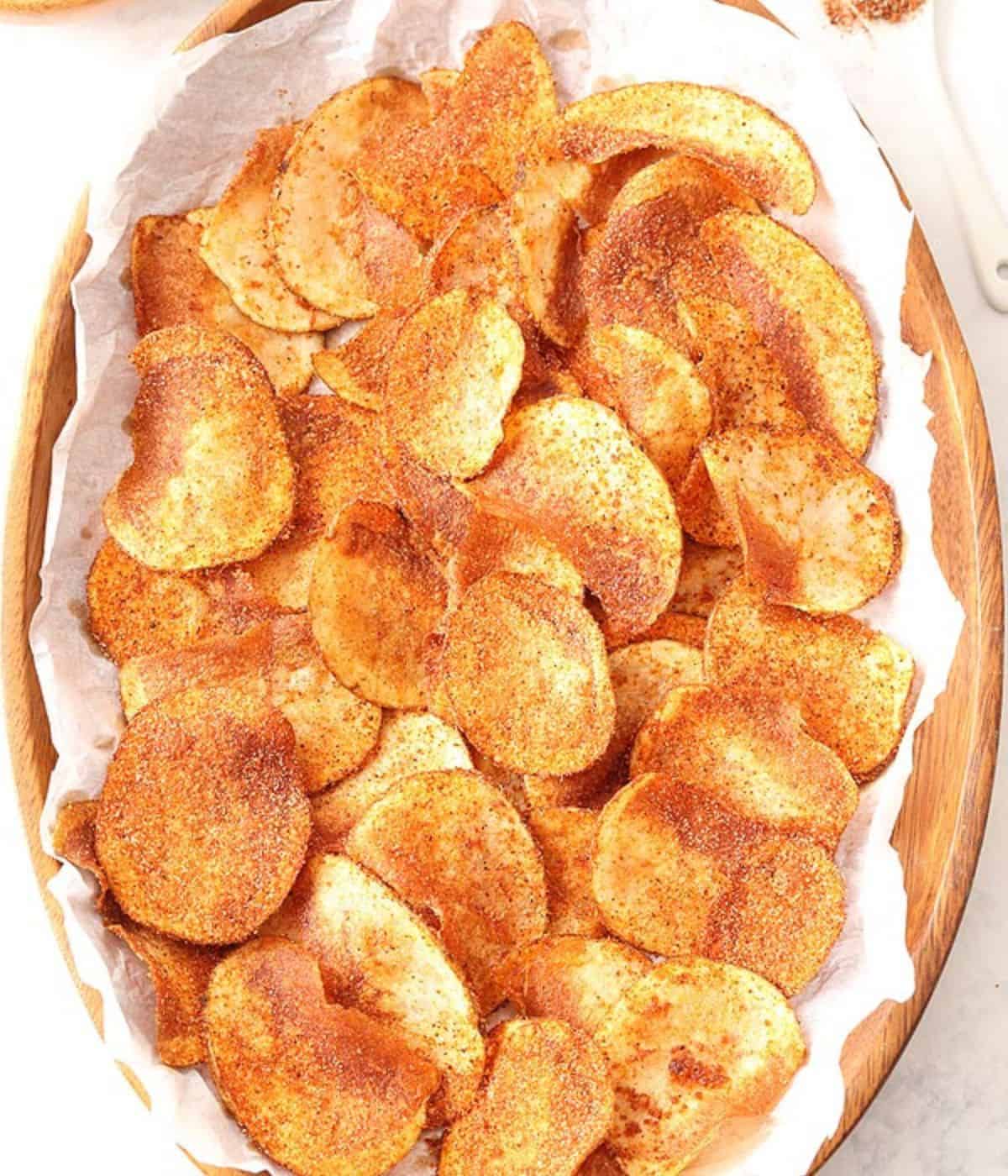 17. Ready salted and salt & vinegar Pom Bears are both gluten and dairy free. The cheese and onion variety do contain milk though so you will need to avoid those.
18. Salt & Vinegar Chickpea Snacks (Homemade) - A super easy, healthy and tasty snack that has lots of flavour options.
19. Rice cakes are naturally gluten free. A favourite in our house is the Organix Apple Rice Cakes. Do double check any packaging though as some flavours may contain milk or gluten.
20. Baked Kale Chips (Homemade) - These healthy baked kale chips are quick and easy to make at home, and are a delicious snack food that's surprisingly hard to stop eating.
🫒 Dips
21. Baba Ganoush Without Tahini (Homemade) - This Baba Ganoush or eggplant dip is made without tahini so can be enjoyed safely if you have a sesame allergy. Smoky aubergine is blended with zesty lemon and garlic to make the perfect dip for a mezze platter or appetiser.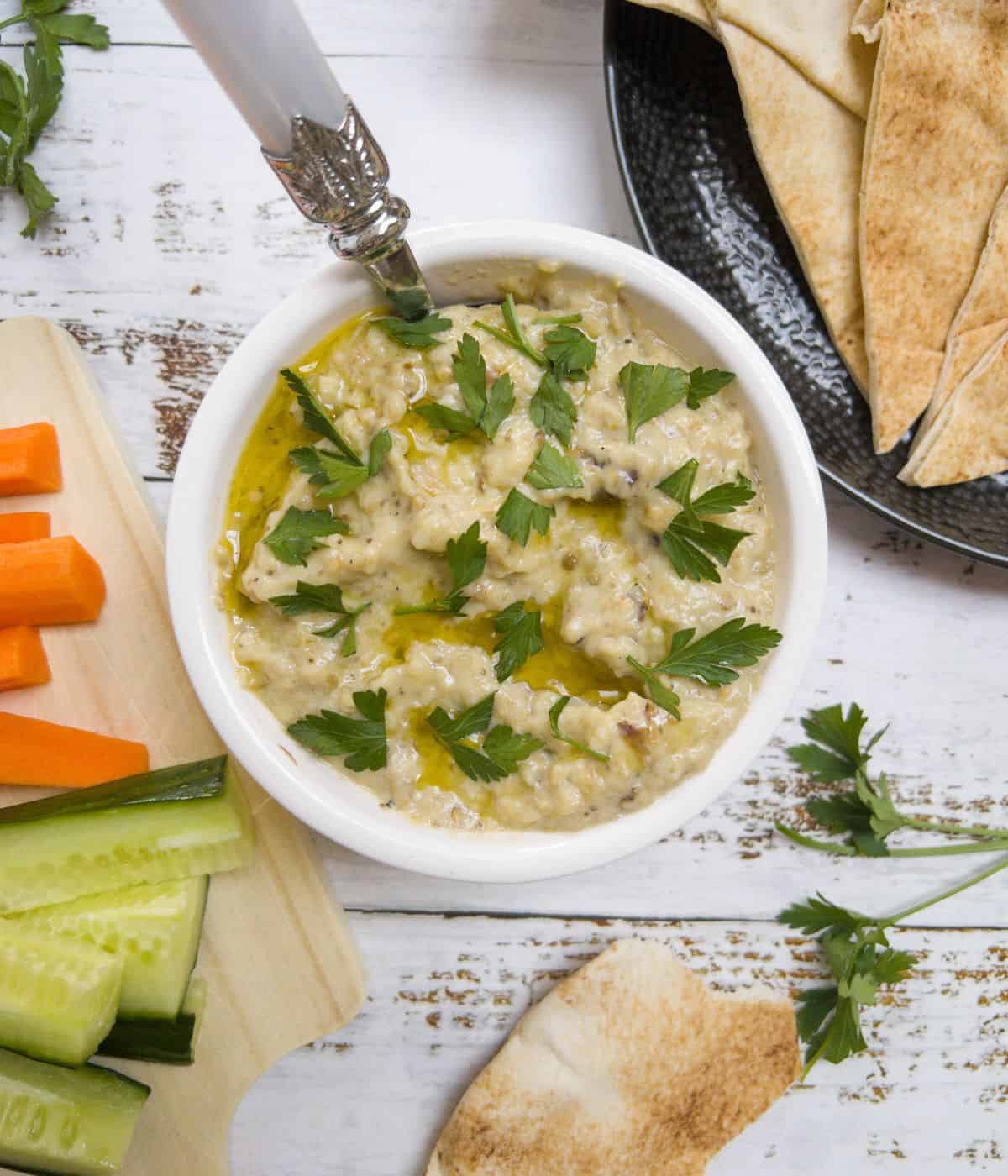 22. Butterbean & Garlic Dip (Homemade) - Also known as lima bean hummus, this dip is deliciously creamy and is tahini free meaning it's great for anyone with a sesame allergy. Perfect served with pitta, tortilla chips or crudities, it makes the ideal healthy snack.
23. Vegan Guacamole ( Homemade) - Try this vegan guacamole for a rich, creamy, and buttery addition to all of your favourite meals. Serve it with tortilla chips, tacos, buddha bowls, toast, and more. You will love how quick and easy it is to prepare!
24. Delicious Sardine Dip (Homemade) - This simple dip adds variety to your traditional hummus or veggie dip. It can also be used as a sardine spread for sandwiches or bagels. Or make it a sardine appetiser on crackers. It's so versatile!
🍳 Savoury Snacks
25. Chinese Style Salt & Pepper Baked Chicken Wings (Homemade) - These wings are marinated in salt, pepper and ginger then garnished with chilli, garlic and spring onion. They are deliciously crispy and surprisingly gluten and dairy free!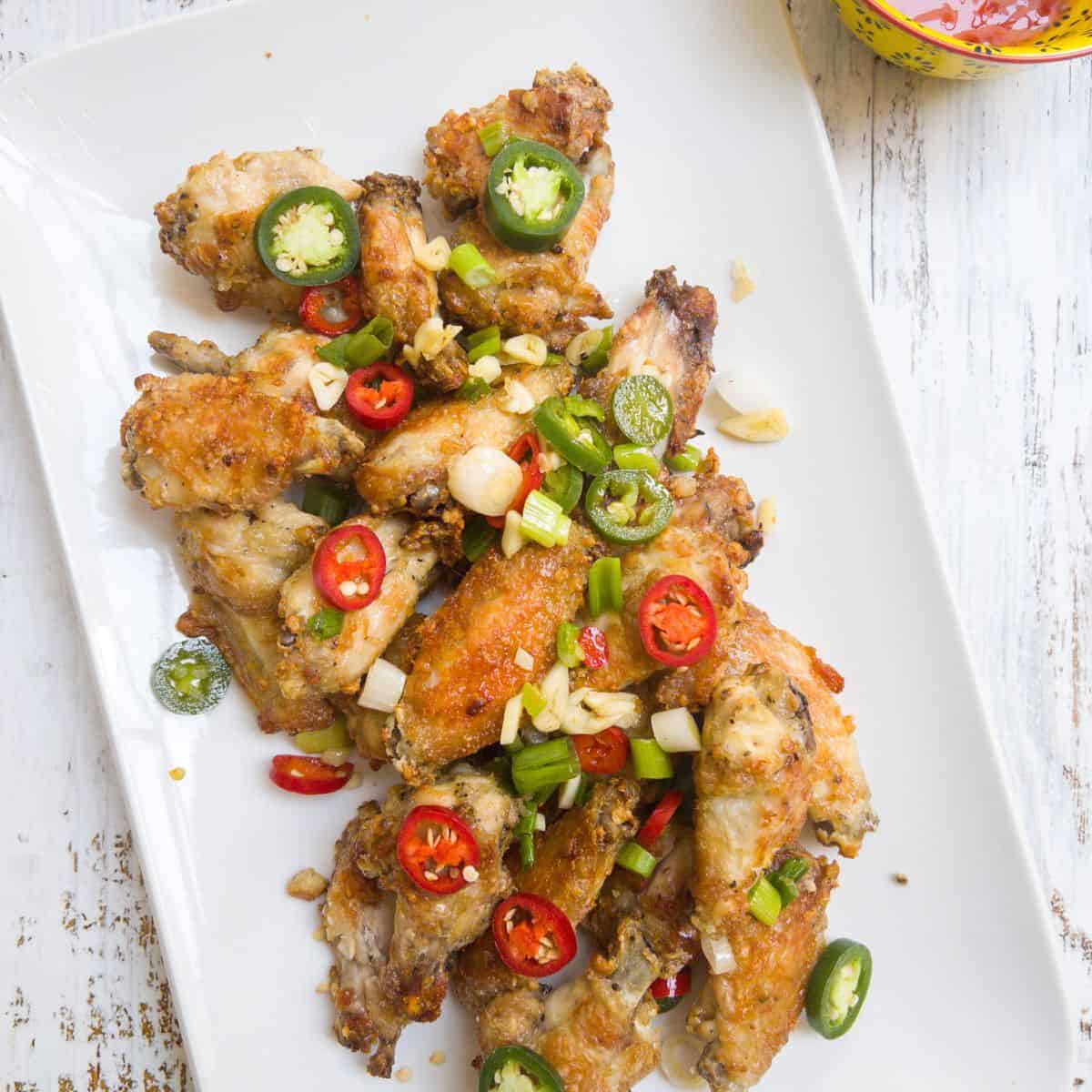 26. Gluten Free Mini Sausage Rolls (Homemade) - Tuck into these succulent gluten free mini sausage rolls which are perfect for an after school snack for the kids or make a great addition to a party buffet or summer picnic.
27. Gluten Free Ham & (Dairy Free) Cheese Pinwheels (Homemade) - These delicious Dairy & Gluten free Ham and Cheese Pinwheels make a tasty toddler and children's snack. Using only 4 ingredients they are super easy to make and are ideal for party food too!
28. Crispy Cauliflower Bites (Homemade) - Crispy Baked Cauliflower Bites A.K.A Wings are the perfect appetiser or snack! They are baked in the oven making them healthier, tand are vegan & gluten-free.
29. Fried Aubergine With Honey (Homemade) - This Fried Aubergine with Honey is a popular Spanish tapas dish & is also known as Berenjenas Fritas Con Miel. The aubergine is drizzled with honey making it the perfect blend of sweet and savoury.
30. Crispy Onion Bhaji (Homemade) - Golden, light, and perfectly crispy Indian onion bhajis made from scratch! A great gluten-free and vegan snack or appetiser that you can easily make in just 20 minutes.
31. Keep a few hard boiled eggs in the fridge for easy, on the go dairy-free snacks.
32. A handful of olives make a healthy, tasty snack.
🍓 Fruit & Veggies
The safest options for anyone with gluten sensitivity or food allergies are whole, unprocessed fresh fruit and vegetables. They are also the healthiest choice too!
33. Apple slices with nut butter - Chop an apple into slices and dip into a nut butter of your choice. Cashew butter, peanut butter and almond butter are popular choices. If you can't eat nuts why not use a sunflower seed butter instead.
34. These Fruit Kabobs are a great way to make eating fruit for fun for children.
35. Cut up some red pepper, carrot sticks, cucumber and dunk them into any of the delicious dips listed above.
36. Smoothies - Like this Banana & Carrot Smoothie (Homemade)
37. YoYo's are real fruit rolled into a long curled up reel. Kids love them and they can collect the bear cards that come in each packet.
38. Dried banana chips or fruit chips.
39. Nuts - If you are able to eat nuts, a small handful of these make the perfect healthy snack. Why not try a mixture of cashews & almonds?
40. Raw Veggie Wraps (Homemade) - These rainbow raw veggie wraps are quick, easy to make and deliciously healthy. Fill a big cabbage or kale leaf with sliced raw vegetables and add your favourite dressing to dip them in for a plate full of utter delight.
41. Fruit Salad With Poppy Seed Dressing (Homemade) - This 4 ingredient easy fruit salad recipe is the perfect side dish or snack! A colourful and flavourful array of delicious fruits and berries that comes together quickly and easily.
42. A huge slice of watermelon.
🌟 Let me know in the comments if you have found this list helpful or if you have any other great ideas to share! 🌟