Food allergies are a growing concern in the United Kingdom and around the world.
The UK Food Standards Agency (FSA) has identified 14 major food allergens that must be clearly labelled on food products to protect consumers with allergies.
Also, if you are eating out in a restaurant, ordering food from a takeaway or getting a delivery, the business by law has to provide allergen information for each dish. This can either be in writing or orally.
In this comprehensive guide, we will delve into these top 14 food allergens, offering a deeper understanding of each allergen and providing real-life examples of the foods in which they can be found.
Whether you have allergies or know someone who does, this information will help you navigate the intricate world of food allergens in the UK.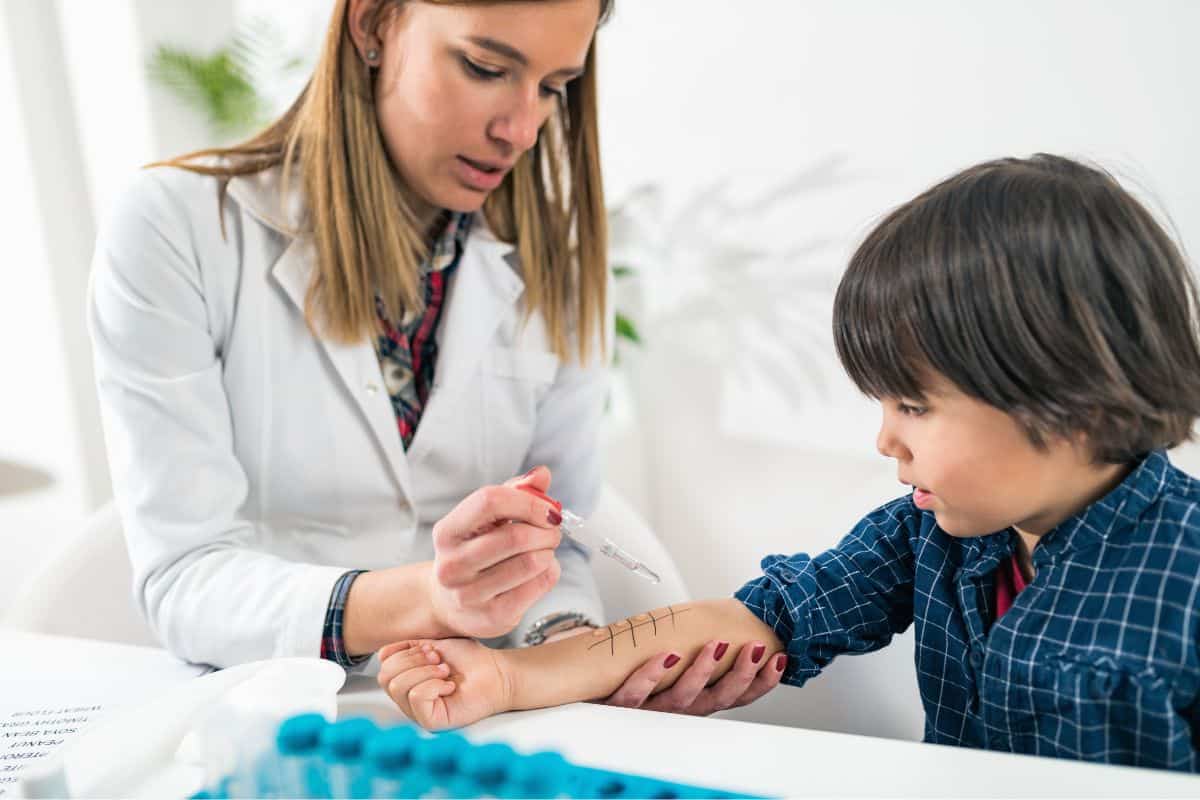 Jump to:
Food Intolerance V's Food Allergy
Food allergies involve the immune system's response to specific proteins in food, leading to potentially severe and immediate reactions, such as anaphylaxis.
Food intolerances, on the other hand, don't bother the immune system and usually lead to milder tummy issues, showing up a bit later after you've eaten the troublemaking food.
Allergies require you to steer clear of the problem foods completely & make sure you avoid any cross-contamination if the allergy is severe, while intolerances mean you can just cut back on or skip certain stuff to feel better.
Anaphylaxis
Anaphylaxis is a severe and potentially life-threatening allergic reaction that can occur rapidly after exposure to an allergen.
It requires immediate medical attention. Understanding the symptoms of anaphylaxis is crucial for quick recognition and an appropriate response.
Symptoms of Anaphylaxis:
Anaphylaxis symptoms can vary from person to person but often include:
Skin Reactions: Hives, itching, and flushed or pale skin.

Respiratory Distress: Shortness of breath, wheezing, and chest tightness.

Swelling: Swelling of the lips, tongue, or throat, which can lead to difficulty swallowing or speaking.

Rapid Heartbeat: An increased heart rate or a weak pulse.

Gastrointestinal Symptoms: Nausea, vomiting, abdominal pain, and diarrhoea.

Mental Confusion: Feelings of lightheadedness, confusion, or loss of consciousness.

Low Blood Pressure: A sudden drop in blood pressure, leading to dizziness or fainting.

Constriction of Airways: Severe constriction of the airways can lead to a complete blockage, making it extremely difficult to breathe.

It's really important to recognise these symptoms promptly and dial 999 when anaphylaxis is suspected, as it can be fatal if left untreated.
Administering an epinephrine auto-injector (EpiPen) is often necessary before seeking medical help.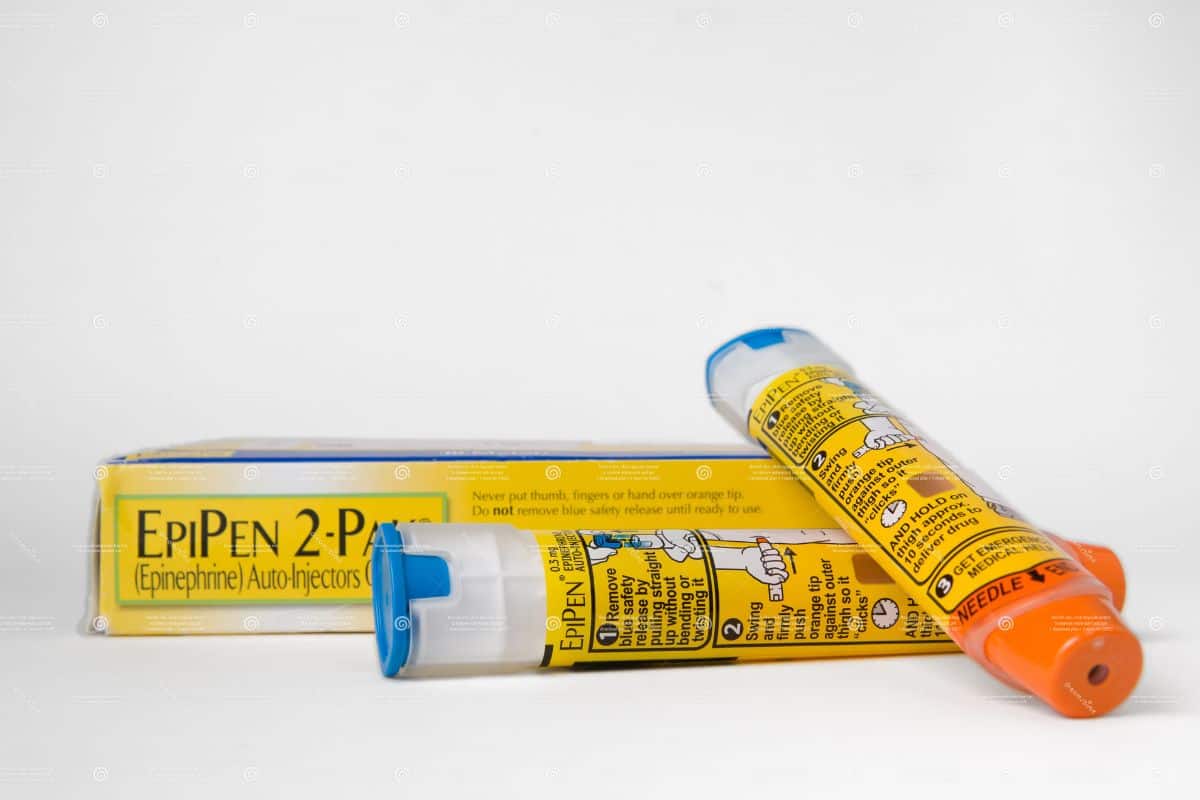 The Top 14 Major Food Allergens In The UK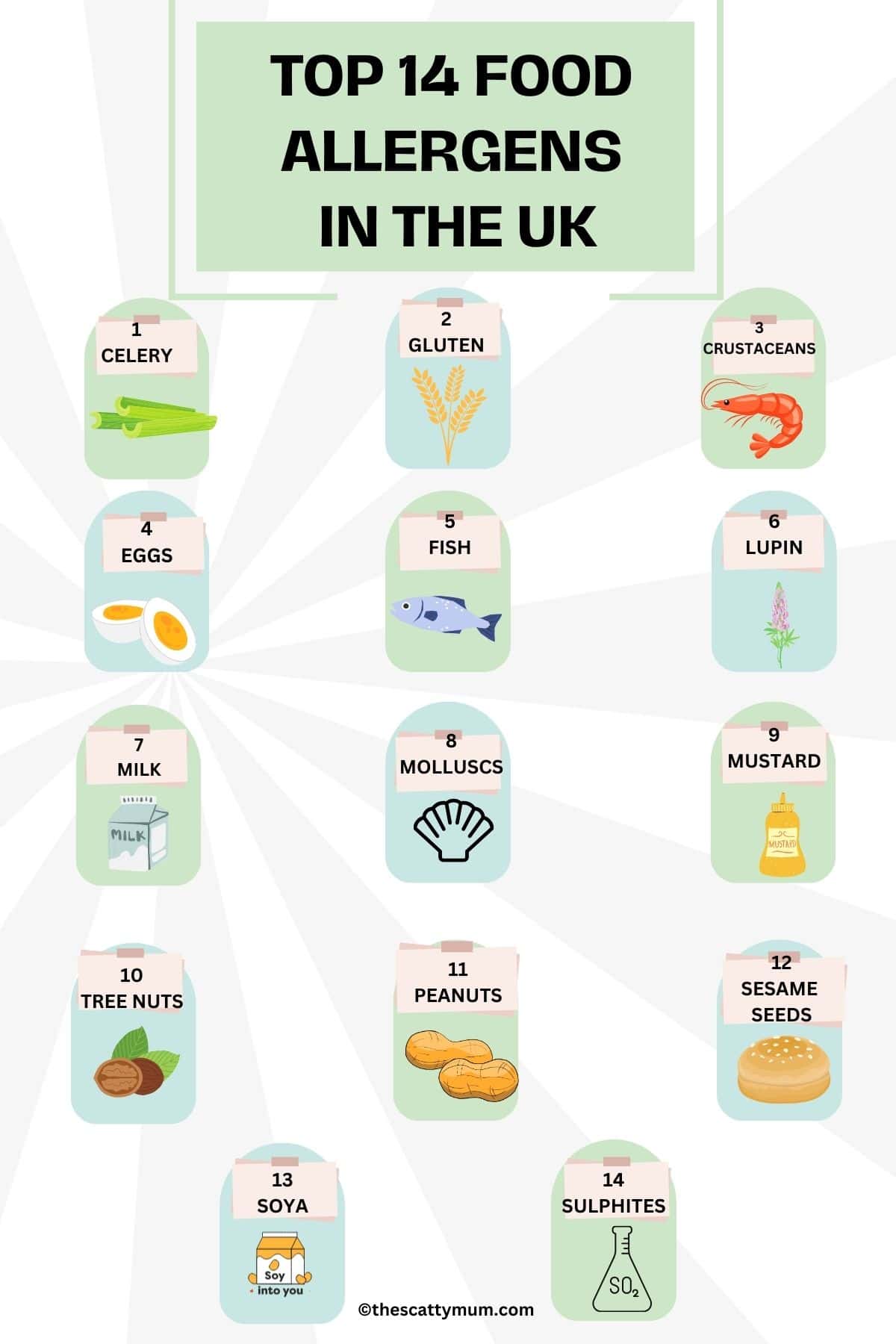 Cereals Containing Gluten - Cereals containing gluten include wheat, barley, rye, and oats. These allergens are commonly found in bread, pasta, cakes, and many processed foods like breakfast cereals and beer.
Crustaceans - Crustaceans like prawns (shrimp), lobster, and crab are common allergens. They are often present in seafood dishes, seafood sauces, and sushi.
Eggs - Eggs are found in a wide range of foods, from baked goods to mayonnaise, and even some meat products like sausages and meatballs.
Fish - Fish allergens encompass all types of fish, including cod, salmon, and tuna. Fish can be present in a variety of dishes, such as fish and chips, sushi, and fish-based soups.
Peanuts - Peanuts are a well-known allergen and can be found in peanut butter, many snacks, and even as hidden ingredients in sauces and curries.
Soybeans - Soybeans are widely used in processed foods, including soy milk, tofu, and soy-based sauces like soy sauce and teriyaki sauce.
Milk - Milk allergens are present in dairy products like milk, cheese, yoghurt, ice cream and butter, but they can also be hidden in baked goods, processed meats, and chocolate. Cows milk protein allergy is one of the most common food allergies in children.
Nuts - Nuts encompass a range of tree nuts, such as almonds, hazelnuts, and walnuts. They are found in various foods, including nut butter, pastries, and salads.
Celery - Celery is often used in soups, stews, and salads, and it may also be present in seasonings, stocks, and sauces.
Mustard - Mustard allergens can be found in condiments like mustard itself, but also in salad dressings, marinades, and pickles.
Sesame Seeds - Sesame seeds are present in many foods, from bread and buns to crackers and hummus. They can also be used as a garnish on various dishes.
Sulphur Dioxide and Sulphites - Sulphur dioxide and sulphites are commonly used as preservatives in dried fruits, wine, and processed meats.
Lupin - Lupin is used as a flour in some gluten-free products and can be found in baked goods, pasta, and certain bread types.
Molluscs - Molluscs, including snails, clams, and mussels, can be found in dishes like paella, chowder, and pasta with seafood.

Knowing about food allergies is essential in a world where food is a big part of our lives, as even tiny amounts can trigger severe allergic reactions like breathing difficulties or even anaphylaxis.
So, always be upfront about any allergies, whether dining out or cooking at home.
Read labels carefully, and armed with this knowledge, you can confidently enjoy your meals, knowing you're making safe and delicious choices.
Food allergies are a serious matter, but with a little awareness, you can still enjoy your favourite dishes without worry.
* Always seek professional medical advice immediately if you suspect you have a food allergy. The doctor will carry out a food allergy test. This is usually done by blood test or skin prick test.*