Cows milk protein allergy is estimated to affect up to 7% of babies under one.
With a wide range of symptoms, there are many signs your baby may have a cows milk protein allergy. They can be similar to other conditions affecting young infants such as colic or eczema, so it can be quite tricky for GP's to diagnose.
If you suspect your baby has signs of a cows milk protein allergy, it is important to make an appointment to see your doctor. Keep a log of your baby's symptoms and take these with you to discuss.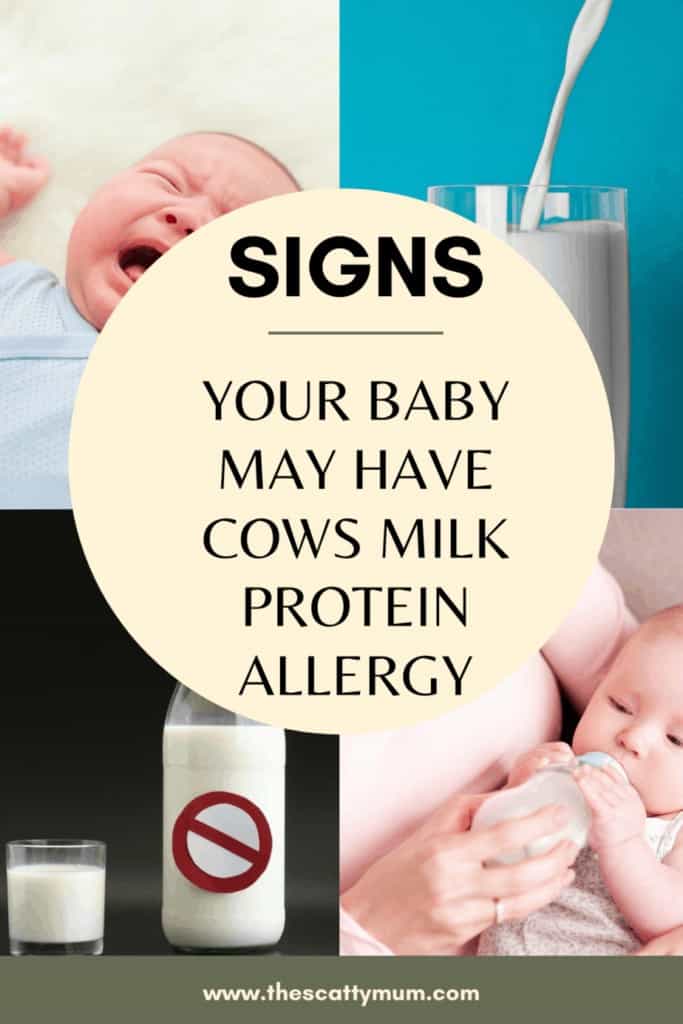 What is Cows Milk Protein Allergy?(Also known as CMPA)
Cows milk protein allergy is also known as CMPA and is the most common allergy in babies and young children. Fortunately the majority of infants will grow out of their cows milk allergy by the time they are five.
It occurs when a baby's immune system reacts to the proteins in cows milk seeing them as a potential threat, this then causes allergy symptoms.
There are two main types of Cows Milk Protein Allergy.
IgE mediated (Immediate) - symptoms typically begin within minutes of having cows' milk
Non IgE mediated (Delayed) - symptoms typically begin several hours or even days after having cows' milk and are more likely to affect the digestive system. This is the most common form.
Your baby could have either, or a mixture of both.
Check Out My Guide To The 7 Best Chain Restaurants For Children With Food Allergies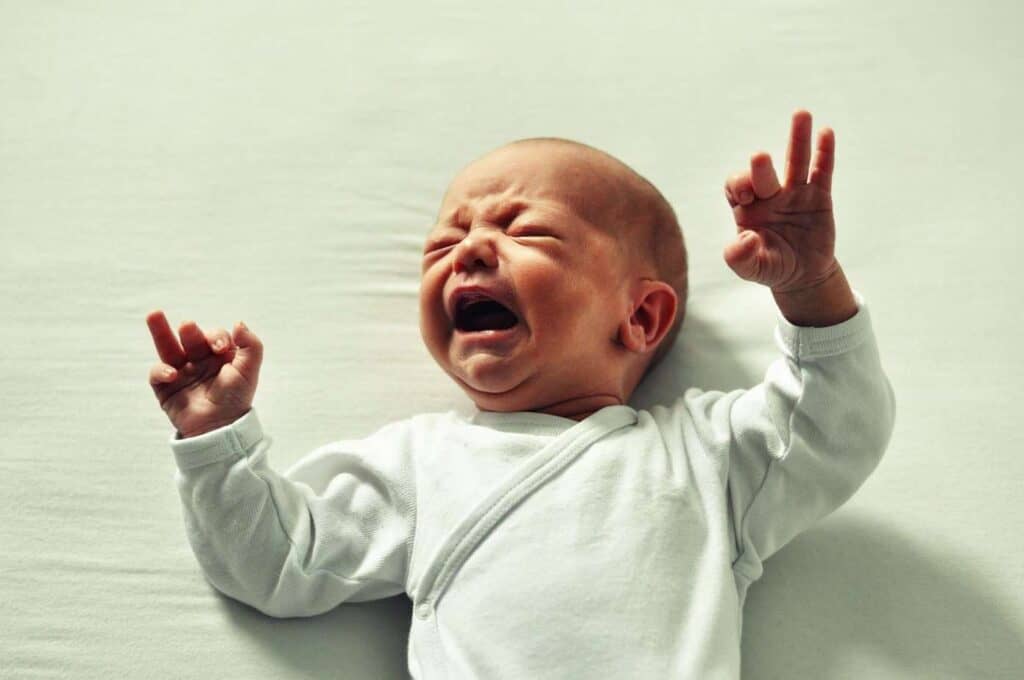 Symptoms
CMPA can present itself with a wide range of symptoms making it challenging to link them all together.
You may have been told that you have a "fussy baby" that "its colic" or your baby has eczema.
Common symptoms of cows milk protein allergy include the following. (Your baby may not have all of these symptoms)
Digestive
Diarrhoea
Blood or mucus in stools
Constipation
Vomiting/spit up
Reflux or silent reflux
Excessive wind or stomach pain
Colic
Skin
Hives
Eczema
Dry scaly skin
Respiratory
Coughing
Wheezing
Stuffy or runny nose
Noisy breathing
Anaphalaxis *
* Anaphalaxis is very rare however this is a medical emergency and you should call 999 immediately.
General
Refusal to feed
Unsettled
Restlessness
Back arching
Bad sleeper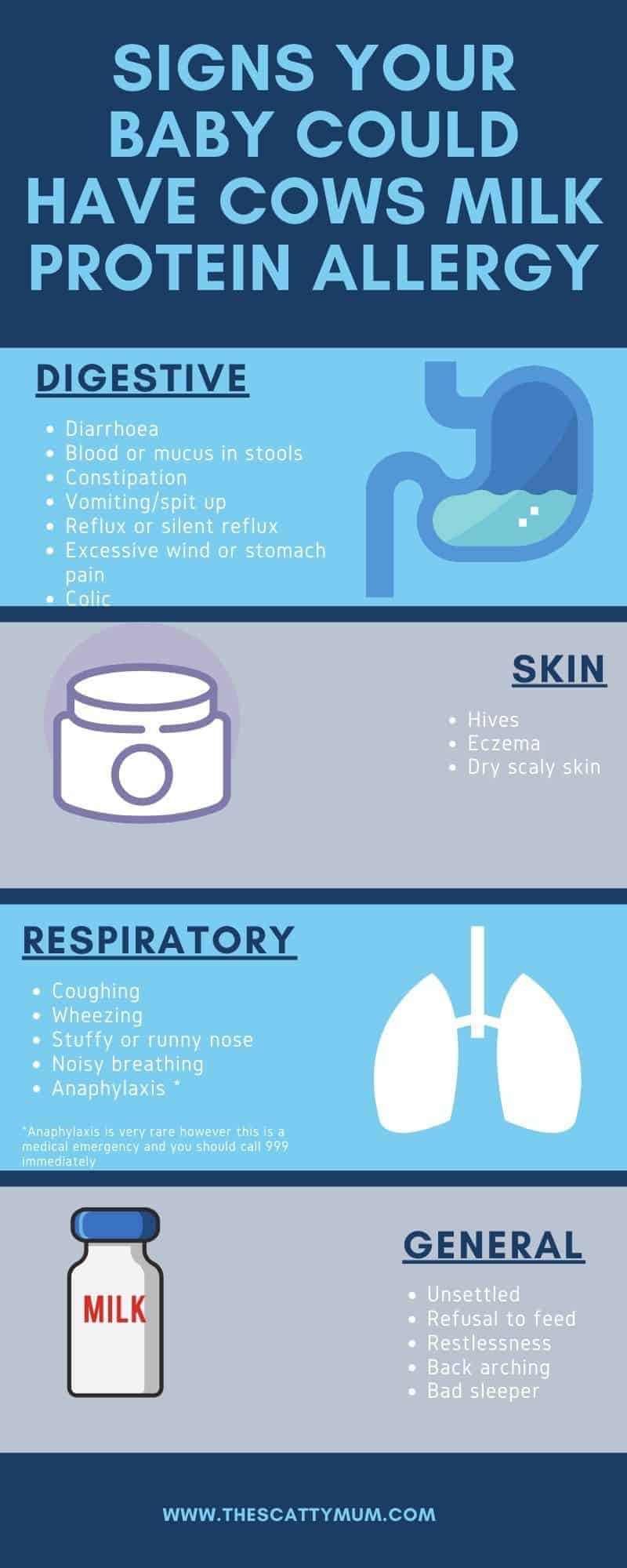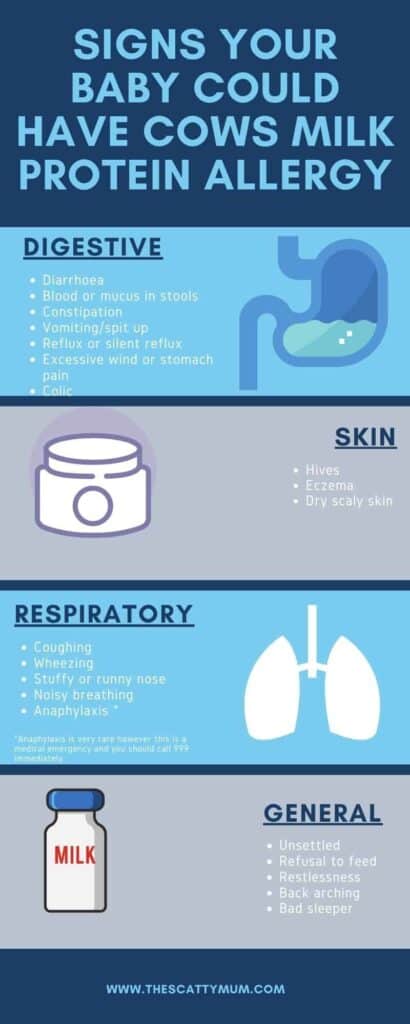 Diagnosing a Milk Allergy in Babies
It can be quite tricky for your GP or Health Visitor to diagnose a milk allergy as the symptoms your baby is experiencing can be quite similar to a lot of other conditions that affect young babies,
If you suspect that your baby has a milk allergy I would advise taking a symptom diary along to your first GP/Health Visitor appointment that shows what symptoms occur and when.
It can also help to take photos of any hives, rashes, or ezcema along with video recordings of any wheezing or refusals to feed.
Using the information you have provided, if your Doctor thinks your baby may have a milk allergy they may
Ask you to go on an elimination diet if you are breast feeding. This would mean removing dairy completely from your diet.
If you are formula feeding, they may suggest a prescribed hypoallergenic formula where the milk proteins are broken down or hydrolysed, which then makes it ok for the majority of babies with a cows milk allergy to digest, alleviating symptoms.
Arrange for skin prick tests or blood tests if an IGE allergy is suspected. (This may not need to be carried out if either of the above options work)
What Next?
Your doctor may ask you to come back in a few weeks to see if the elimination diet or new formula has made a difference to your baby.
There are a number of different hypoallergenic formulas, so if your baby doesn't seem any better your Doctor may advise to try another.
If there is no difference or an IGE allergy is suspected you may be referred to an Paeditrican or allergy clinic under the NHS who will be able to carry out a skin prick test or blood test.
Along with a Dietician, they can also advise the process to take when it comes to weaning your baby and re-introducing cows milk into your babies diet.
Dairy Free Recipes Suitable For The Whole Family
Dairy & Egg Free Chicken Goujons
Vegan Creamy Mushroom & Broccoli Pasta
DISCLAIMER: This article should be not substituted for professional medical advice. If you suspect your child has an allergy please contact your GP.