Smoky aubergine is blended with zesty lemon and garlic to make this deliciously tasty Baba Ganoush Without Tahini. The perfect eggplant dip for a mezze platter or appetiser.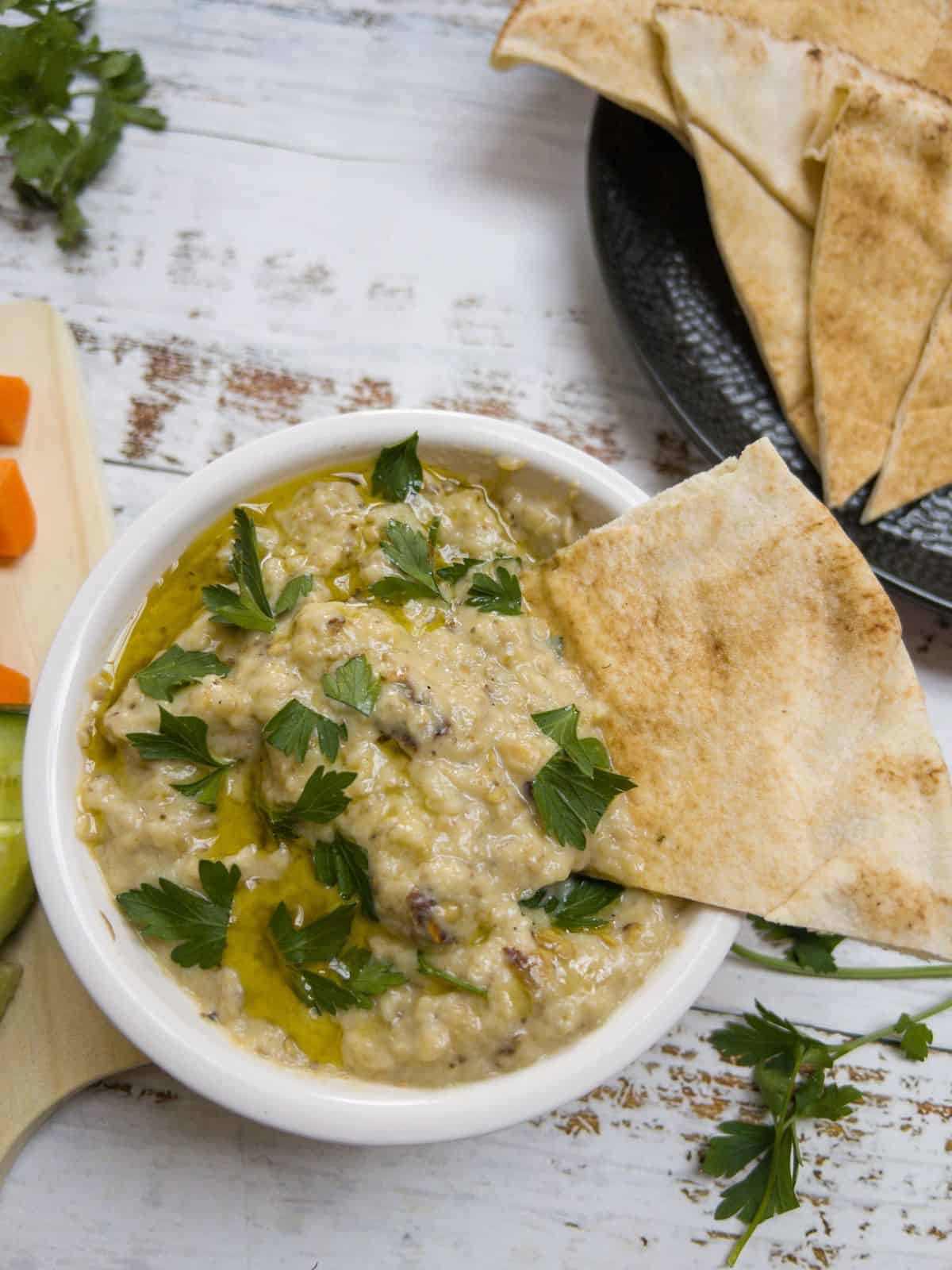 Baba Ganoush is a popular Middle Eastern dip. There are lots of variations out there, with some people adding spices like cumin or smoked paprika or adding a red bell pepper to the recipe.
Whatever ingredients you wish to add, the main star of the show is the smoky aubergine!
Traditionally, it is made by charring or roasting aubergine and then blending it together with fresh lemon juice, tahini & garlic which results in a flavourful, smoky, creamy dip.
Tahini, a paste that is made from sesame seeds, is normally a key ingredient in this delicious dish. However, if you're looking for a variation without tahini, you're in the right place!
With a couple of adaptations I have been able to re-make this easy Baba Ganoush Without Tahini, without compromising on the authentic flavour, Whether you have a sesame allergy or simply want to try something new, I guarantee this flavourful and creamy dip will be a hit!
Some other great aubergine recipes I have include this Chicken & Aubergine Curry & Fried Aubergine With Honey.
Jump to:
🤔 Baba Ganoush v's Hummus
Both are popular Eastern Mediterranean dips traditionally containing tahini, lemon juice and garlic but the biggest difference is the main ingredient:
Main ingredient: The main ingredient in baba ghanoush is roasted aubergine (eggplant), while hummus is primarily made from cooked chickpeas (garbanzo beans). This crucial difference is what distinguishes each dip from the other.
Flavour: Baba Ganoush has a smoky and rich flavour with a hint of tanginess. The roasted eggplant lends a distinct smokiness. On the other hand, hummus has a milder and creamier flavour, with the chickpeas providing a nutty undertone.

Texture: Baba Ganoush has a creamy and silky texture, primarily due to the roasted and pureed aubergine. The dip is usually slightly chunky, providing a pleasant contrast. Hummus, on the other hand, has a smoother and thicker consistency due to the pureed chickpeas. It can be adjusted to a desired texture by adding more liquid (such as olive oil or water) during the blending process.

Key ingredients: In addition to roasted aubergine (eggplant), baba ganoush typically includes ingredients such as garlic, lemon juice, olive oil, and spices like cumin or paprika. Tahini (sesame seed paste) is commonly added, but in the case of a no-tahini version, it can be left out or replaced with a vegan yoghurt. Hummus typically includes cooked chickpeas, garlic, lemon juice, olive oil, tahini, and seasonings such as cumin and paprika.

Uses: Both baba ganoush and hummus are versatile dips used for spreading, dipping, or as condiments. Baba Ganoush pairs well with pita bread, vegetables, or as a side dish for grilled meats. Hummus is often served as a dip with pita bread, chips, or vegetable crudités. It is also used as a spread in sandwiches and wraps.
🥘 Ingredients Used & Substitutions
✋ Be sure to double check all packaging for allergens. ✋
Aubergine - or eggplant as it is known in the USA. Use medium sized aubergines with firm glossy skin.
Garlic - I prefer to mince the garlic so you get the garlic taste but not chunks of garlic in the dip. If you prefer a milder flavour you can roast the garlic in its skin before adding to the dip. (Just remember to remove the skin before adding to the dip!)
Lemon - If you can, always use fresh lemon juice and not the stuff from a bottle, it will taste so much nicer, trust me! As you are just using the juice from the lemon, unwaxed lemons are good to use.
Olive Oil - I use this Filippo Berio Extra Virgin Olive Oil. Always use the best quality oil you can.
Dairy-Free Greek Yoghurt - This is used instead of the tahini. Try and use a Greek-style yoghurt and not just plain yoghurt. This is because Greek or Greek-style yoghurt is thicker which will help thicken the baba ganoush. If you don't need the recipe to be dairy free, just use regular Greek yoghurt.
Salt - I LOVE this Cornish sea salt, but any sea salt will work. Avoid table salt as this is highly processed.
See the recipe card for full information on ingredients and quantities.
⚡ Variations
Spices- If you want to add a bit of spice, try sprinkling some cumin or smoked paprika over the top of the dip.
Peppers - Add some diced uncooked red bell peppers to the baba ganoush after blending. This adds a lovely crunchy, fresh taste to the dip. You can also roast the pepper with the aubergine (the pepper will only need 30 minutes or so) and then blend it together with the other ingredients for a super tasty alternative.
✏️ How To Make This Recipe
⬇️ Here you will find an overview of how to make the recipe. For full information on ingredients and quantities please see the recipe card at the bottom of the page ⬇️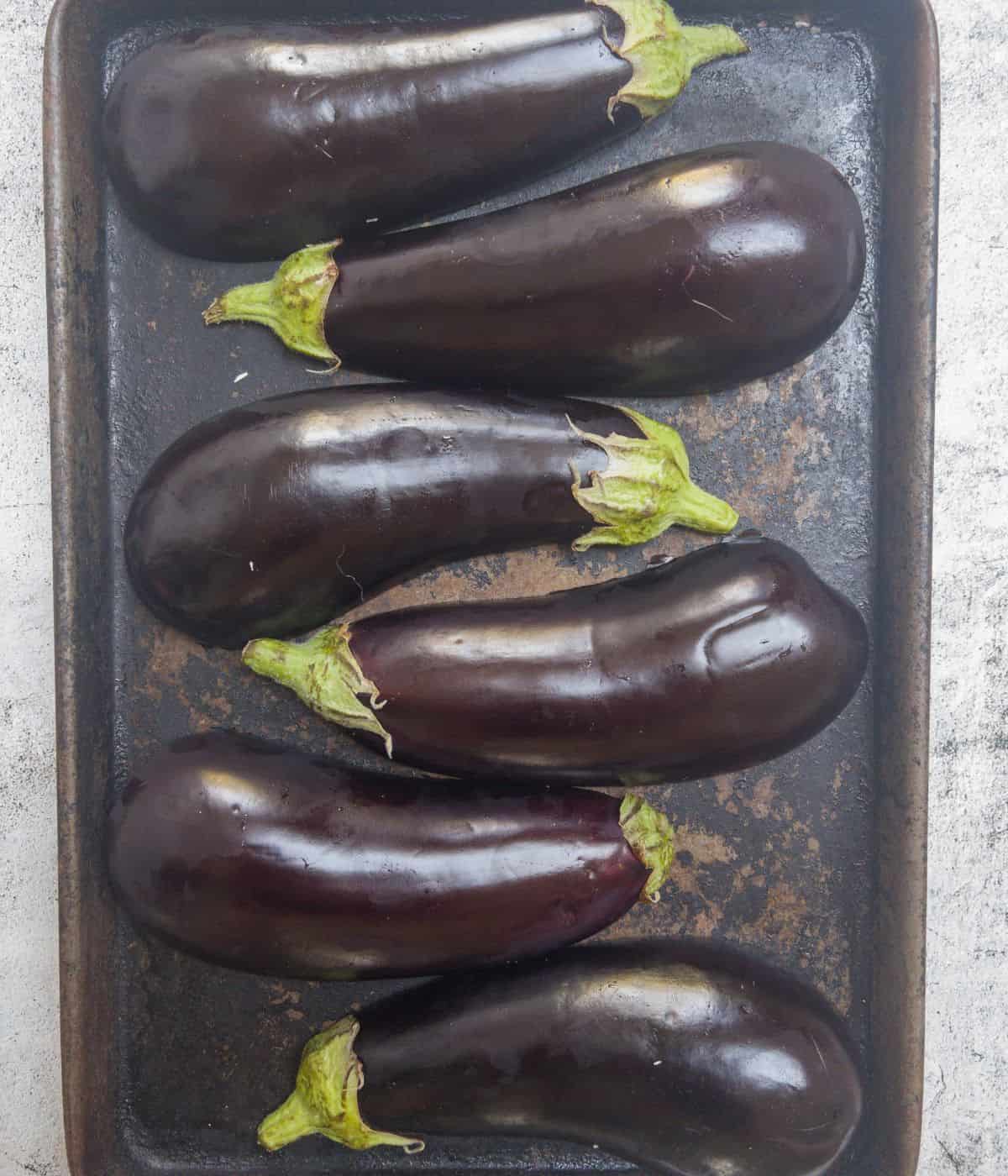 Step 1: First, you need to roast the aubergine in the oven until they become gooey and creamy inside.
To do this, slice each aubergine down the middle lengthways and lay them skin side down on a baking tray.
They need to be roasted in a hot oven (around 220˚C Fan / 430˚F / gas mark 7) until the skin of the aubergine has wrinkled and charred. This will take around 45 minutes depending on your oven.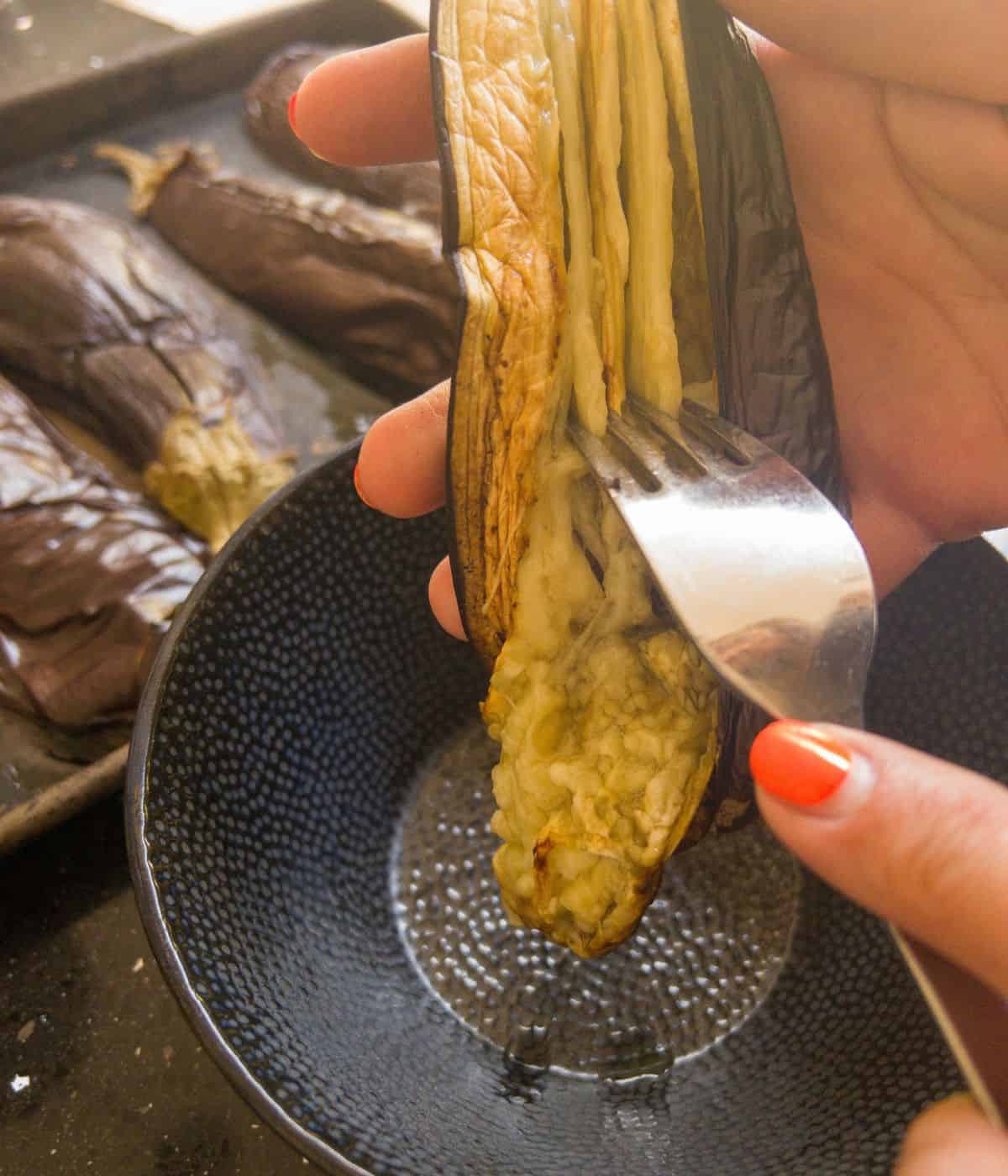 Step 2: Once the aubergines are cooked, leave them to cool for a bit so they are easier to handle, then scrape out the insides of the aubergine with a fork into a sieve placed over a bowl.
Leave the sieve to sit over the bowl for a few minutes. This lets the water from the aubergine drain out so your dip doesn't become watery.
A lot of the flavour will be in this water, so be sure to add a dash into the food processor with everything else.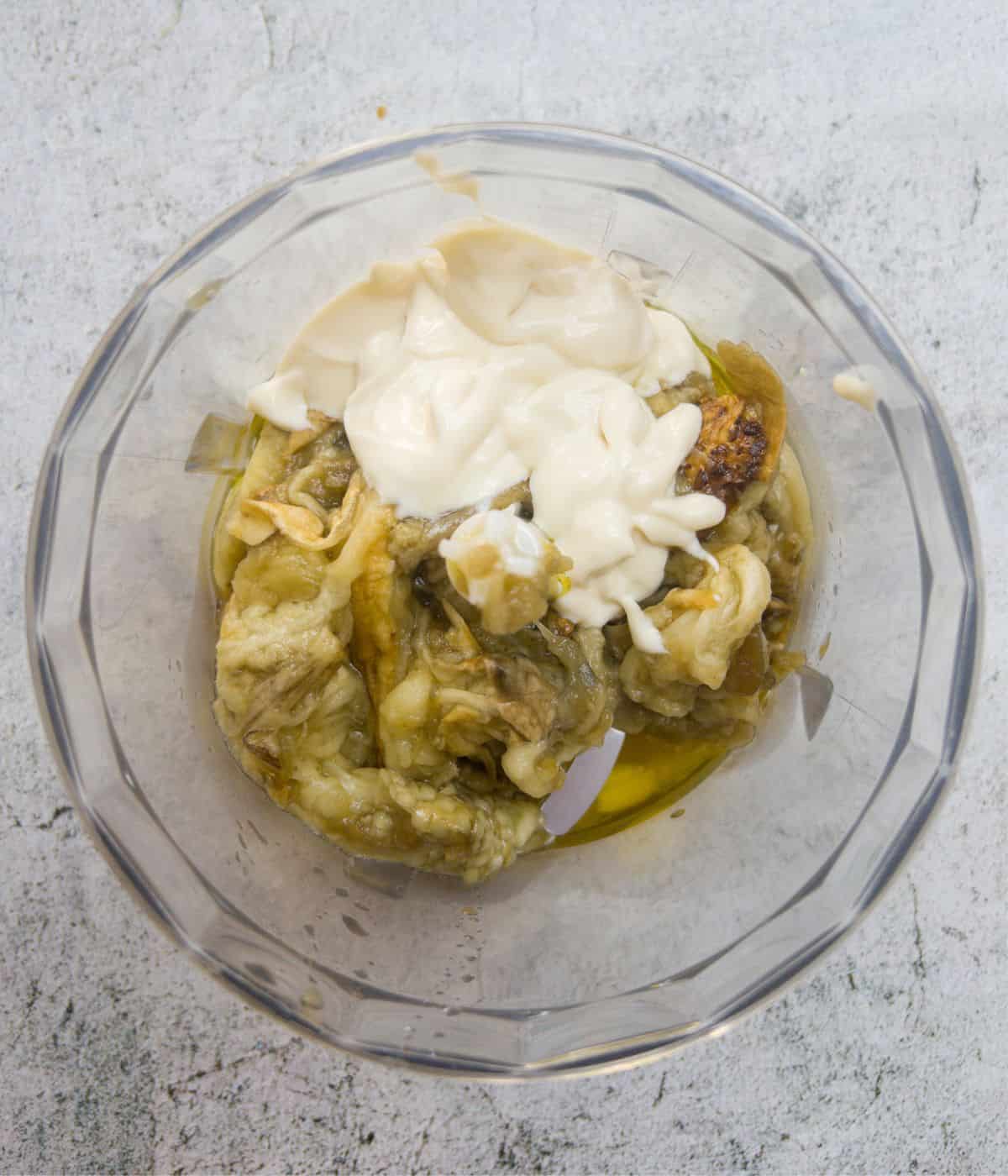 Step 3: Next, juice the lemon, mince the garlic and add these to the food processor along with the strained aubergine, olive oil, salt and dairy-free greek yoghurt.
Pulse until the dip is lightly combined, I prefer to leave some chunks in the baba ganoush, however, if you prefer a smoother texture, just keep pulsing until you reach your desired consistency.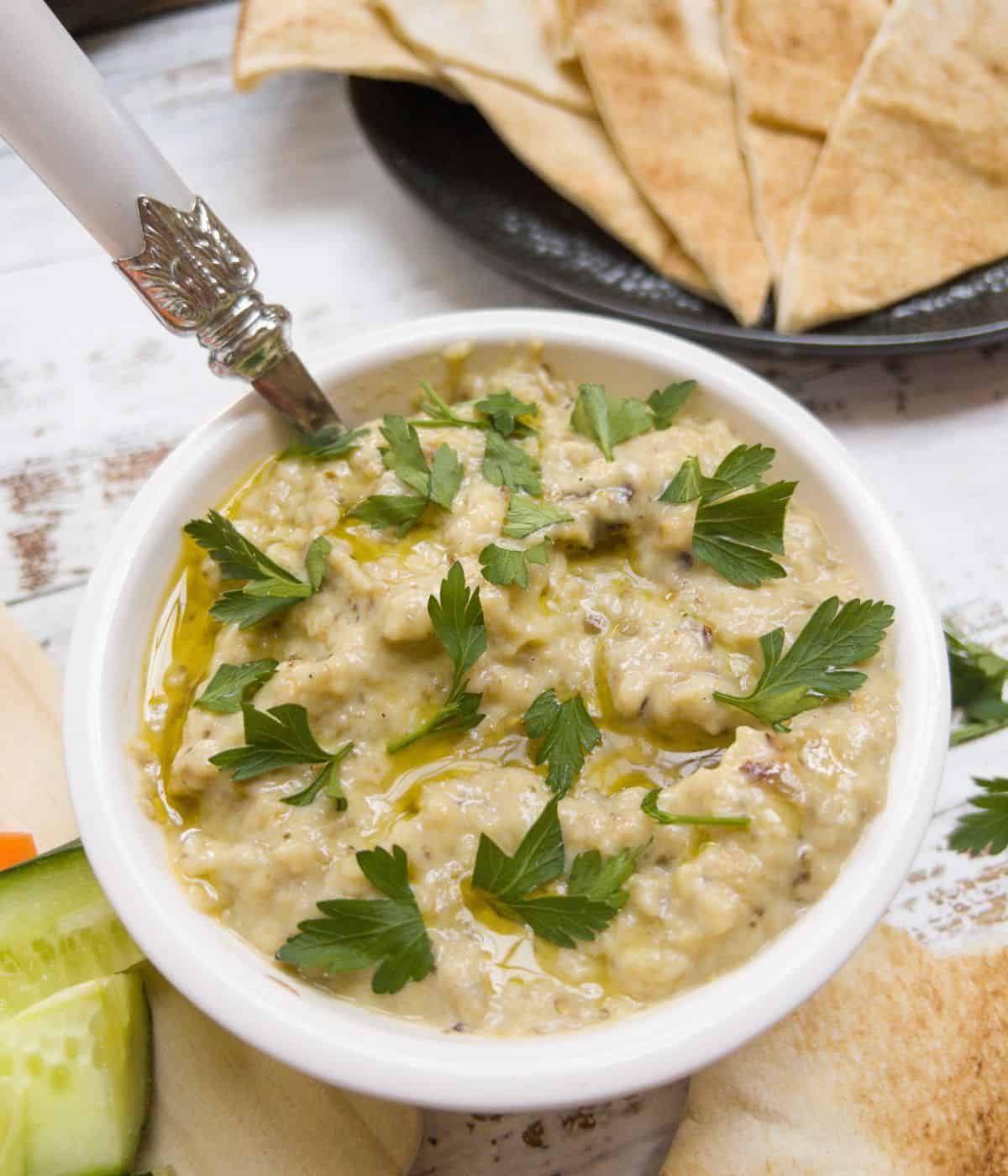 Step 4: Check the seasoning, you may want to add a little more salt or some black pepper.
Drizzle olive oil over the top of the dip and sprinkle over some fresh chopped parsley before serving.
💡 Tips & Tricks
You can also cook the aubergine in the air fryer, Preheat to 200˚C / 390˚ F. Prepare the aubergine as per the recipe card and roast for 20 minutes until the skin is charred and wilted. ( Note this has been tested in an Instant Pot Vortex Plus air fryer, times may differ in other models)
If you can, make this roasted eggplant dip ahead of time. This allows the flavours to infuse together and the smokiness to really shine through.
If you prefer a milder taste or are not particularly fond of garlic, you have the option to roast the garlic with its skin intact in the oven. ( Just remember to remove the roasted garlic's skin before adding it to the food processor)
🍴 Serving Suggestions
I love to serve this alongside my tahini free butterbean and garlic dip & gambas pill pil.
As part of a mezze platter with fresh, crunchy vegetable crudities like carrot batons, sliced peppers and cherry tomatoes, some grilled halloumi, salty feta and warm, soft flatbreads or pitta bread.
It can also be used as a flavourful filling or topping in sandwiches, wraps, or as a side dish for grilled meats or roasted vegetables like these air fryer honey roasted carrots.
How long will baba ganoush keep in the fridge?
This baba ganoush without tahini will keep in the fridge in an airtight container for around 4-5 days. Serve the dip cold straight from the fridge.
Can you freeze baba ganoush?
I find that this baba ganoush tastes so much better when eaten fresh, however, it is perfectly safe to freeze the dip in a freezable container for up to 3 months. Defrost in the fridge overnight and serve. Just be aware that the dip may become watery and the texture may not be as nice as when eaten fresh.
Can baba ganoush be made ahead of time?
Yes, baba ganoush can be made ahead of time. It often benefits from resting in the fridge for a few hours to allow the flavours to meld together. Simply store it in an airtight container and refrigerate for up to a few days.
📖 More Appetizer Ideas..
Love this recipe? Check out these other appetizer and snack ideas...
I'd love to know what you think of this recipe! If you love it, why not leave a 5 ⭐ rating and comment below!
📖 Recipe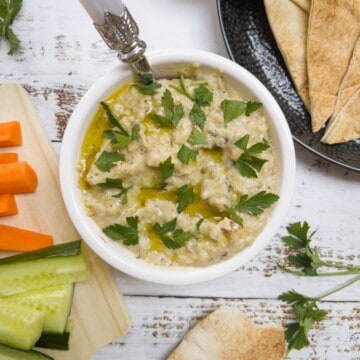 Baba Ganoush Without Tahini
Smoky aubergine is blended with zesty lemon and garlic to make this deliciously tasty Baba Ganoush Without Tahini. The perfect eggplant dip for a mezze platter or appetiser.
Ingredients
3

medium

aubergines

cut lengthways through the middle

2

cloves

garlic

minced

2

tablespoon

freshly squeezed lemon juice

3

tablespoon

extra virgin olive oil

2

tablespoon

dairy free greek yoghurt

¼

teaspoon

sea salt
Instructions
Pre-heat the oven to 220˚C Fan / 430˚F / gas mark 7).

Slice each aubergine lengthways down the middle.

Lay the aubergines cut side down on a baking tray and roast in the oven for 45 mins until the skins are wrinkled and charred.

Once cooked, remove the aubergine from the oven and leave to cool slightly so they are easier to handle.

Place a sieve over a mixing bowl.

Holding the aubergine half in one hand, scrape out the inside of the aubergine into the sieve with a spoon or fork.

Leave the aubergine in the sieve for a few minutes, letting the water from the aubergine drain through the sieve into the bowl.

Add all the other ingredients to the food processor along with the cooked mashed aubergine and a dash of the aubergine water.

Pulse lightly until you have reached your desired consistency.
Notes
Tips & Tricks
You can also cook the aubergine in the air fryer, Preheat to 200˚C / 390˚ F. Prepare the aubergine as per the recipe card and roast for 20 minutes until the skin is charred and wilted. ( Note this has been tested in an Instant Pot Vortex Plus air fryer, times may differ in other models)

If you can, make this roasted eggplant dip ahead of time. This allows the flavours to infuse together and the smokiness to really shine through.

If you prefer a milder taste or are not particularly fond of garlic, you have the option to roast the garlic with its skin intact in the oven. ( Just remember to remove the roasted garlic's skin before adding it to the food processor)
Nutrition
Calories:
126
kcal
Carbohydrates:
14
g
Protein:
3
g
Fat:
8
g
Saturated Fat:
1
g
Polyunsaturated Fat:
1
g
Monounsaturated Fat:
5
g
Cholesterol:
0.3
mg
Sodium:
105
mg
Potassium:
534
mg
Fiber:
7
g
Sugar:
8
g
Vitamin A:
56
IU
Vitamin C:
7
mg
Calcium:
29
mg
Iron:
1
mg