These gooey vegan Oreo chocolate brownies are deliciously fudgy and super indulgent! A great treat to have with that afternoon cup of tea. Being vegan they are dairy and egg free too!
*Disclosure: This post may contain affiliate links - This means I receive a commission for purchases made though those links, at no cost to you. Please click here for further info*
A chocolate brownie is one of life's mini pleasures!
The moist, fudgy texture and the succulent chocolatey taste is hard to beat.
If you are vegan or have an allergy to dairy or eggs, a great chocolate brownie alternative can be hard to find. Until now……
This vegan Oreo chocolate brownie recipe is so easy to make with only 15 mins hand's on prep time!
The kid's devoured these in seconds and have said they are their new favourite sweet treat!
Why not serve these brownies alongside my vegan & gluten free banana bread and eggless vanilla cupcakes as part of an afternoon tea?
Jump to:
Ingredients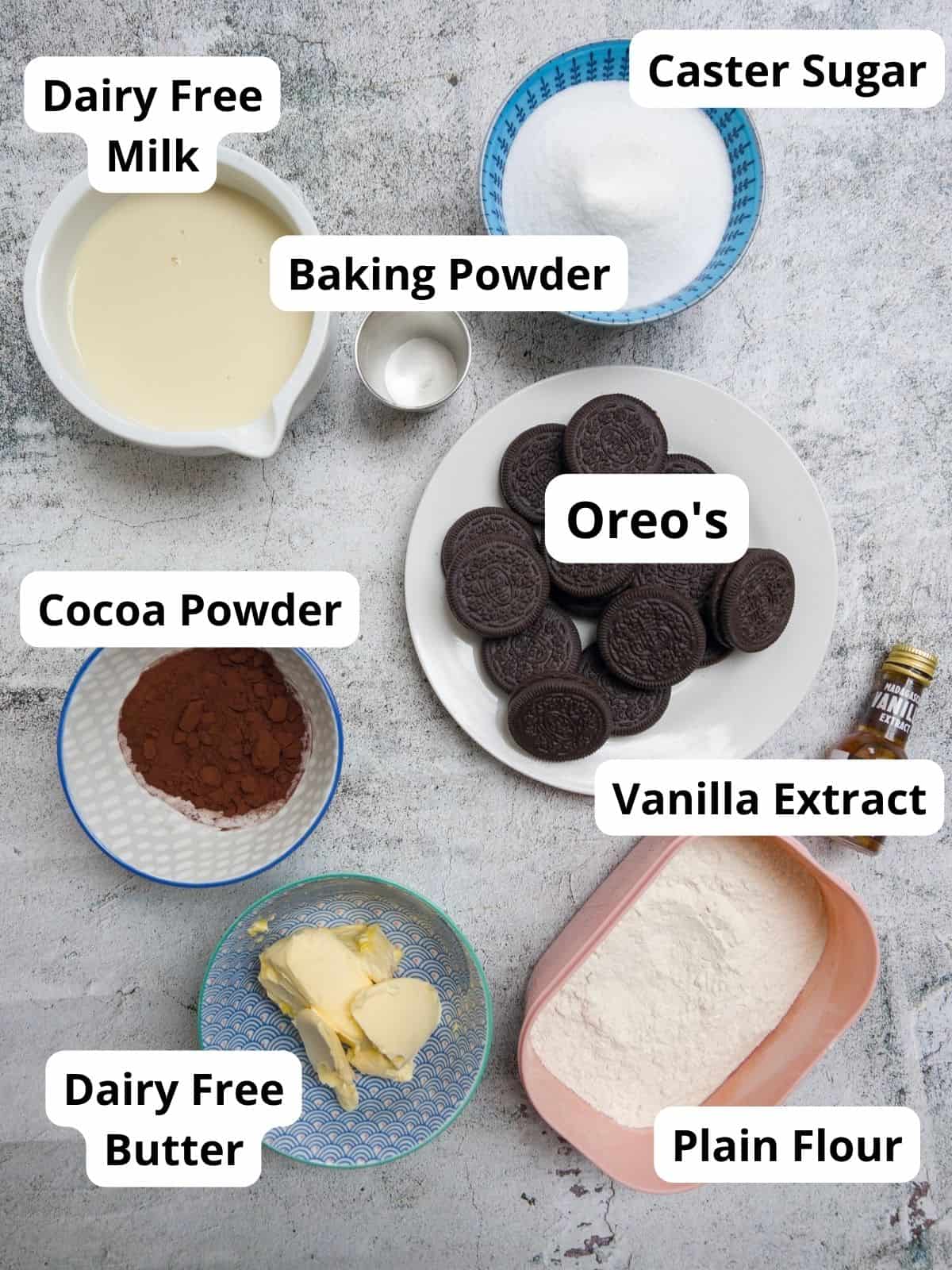 Oreo's - These add a crunch to the brownie and a creamy, vanilla flavour from the cream filling inside the biscuit and yes, they are dairy free!
Plain Flour - I have used plain flour, however you can use self raising flour and omit the baking powder.
Cocoa Powder - Try to use the best cocoa powder you can or you can use cacao powder, which is cocoa in its raw, unprocessed form.
Caster Sugar
Dairy Free Butter - In this recipe I have used Plant Flora which is a great dairy free alternative for baking.
Dairy Free Milk - I have used unsweetened soya milk, however almond or oat milk would also be a good alternative.
Vanilla Extract - Extract not essence!
Baking Powder - I have added this for a bit of rise, but you can leave it out if you prefer a denser brownie.
See recipe card for quantities.
How To Make - Step By Step
Honestly, this recipe is so quick and easy to make!
Top Tip: Use a toothpick to check when the brownies are done. Stick the toothpick into the centre of the brownie, you want a bit of the mixture to stick to the toothpick, if nothing sticks when you pull it out, this means they are overcooked and the brownies will have a drier, cakey texture to them.
Top Tip: Ensure the brownies are fully cooled before you slice them. You can put them in the fridge for an hour to firm them up even more. Use a serrated knife and try to cut them through in one long, hard cut.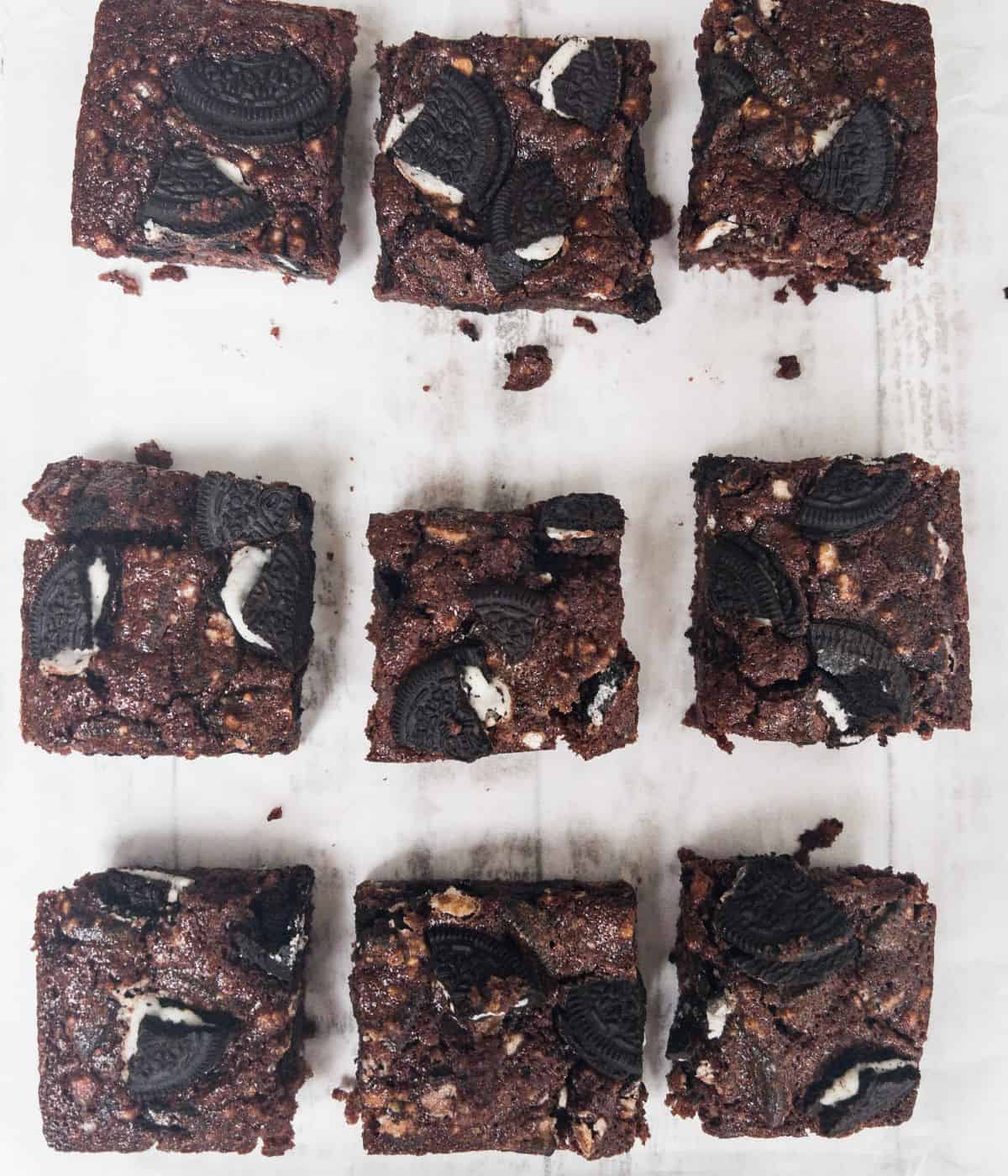 Substitutions & Variations
Don't Need Dairy Free? - If you don't need the brownies to be dairy free you can add regular milk and butter instead of the dairy free options.
Make It Gluten Free - Substitute the flour for a gluten free flour like this Doves Farm plain flour. You can buy gluten free Oreo's from Amazon or substitute them for any gluten free similar biscuit. Please note I haven't tested the brownies with gluten free flour yet.
Variation- Sprinkle over some dairy free white chocolate buttons before cooking.
Storage
Once cooled, these vegan brownies will keep in an airtight container on the kitchen side for 3 days, although they taste best on the day you cook them.
You can freeze the brownies for up to 3 months. I would recommend wrapping individually or putting in individual freezer bags. Leave on the kitchen side until fully defrosted.
Why not put in the microwave for 30 seconds and serve with some hot dairy free custard?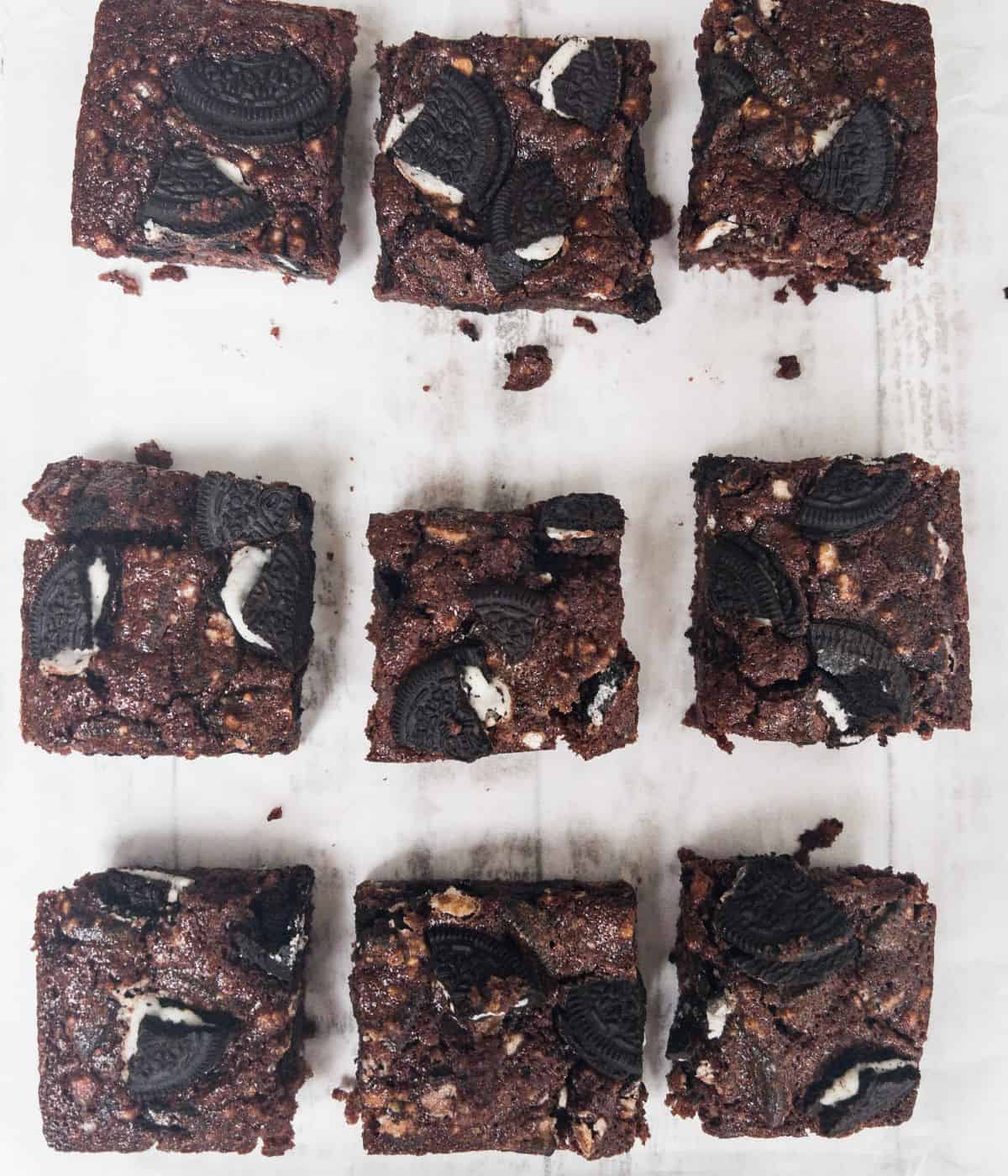 If you loved this recipe, please leave me a 5🌟 rating or comment below. I really do appreciate it. 😊
📖 Recipe