Made with only 5 ingredients, these Garlic & Rosemary Mini Hasselback Potatoes are deliciously golden and crispy and make a great alternative to the standard roast potato. My version is dairy free and vegan too!
*Disclosure: This post may contain affiliate links - This means I receive a commission for purchases made though those links, at no cost to you. Please click here for further info*
I mean, potatoes are life, right?
Whether your favourite is a creamy, fluffy mash, smashed, a crispy skinned jacket, simply boiled, the famous French fry or crunchy roasties, potatoes are a big part of most people's diet.
I'm sure after trying these garlic & rosemary mini hasselback potatoes, they will become one of your new favourites too!
These potatoes look amazing and taste great! The outer skin has a crispy, almost chip like feel, yet the inside is soft and fluffy.
The buttery, garlic flavour really shines through and they are a great accompaniment to your Sunday roast.
If you love potatoes as much as me why not also check out my Chicken, Bacon and Mushroom Pie With Potato Topping or my Dairy Free Lamb & Sweet Potato Hotpot.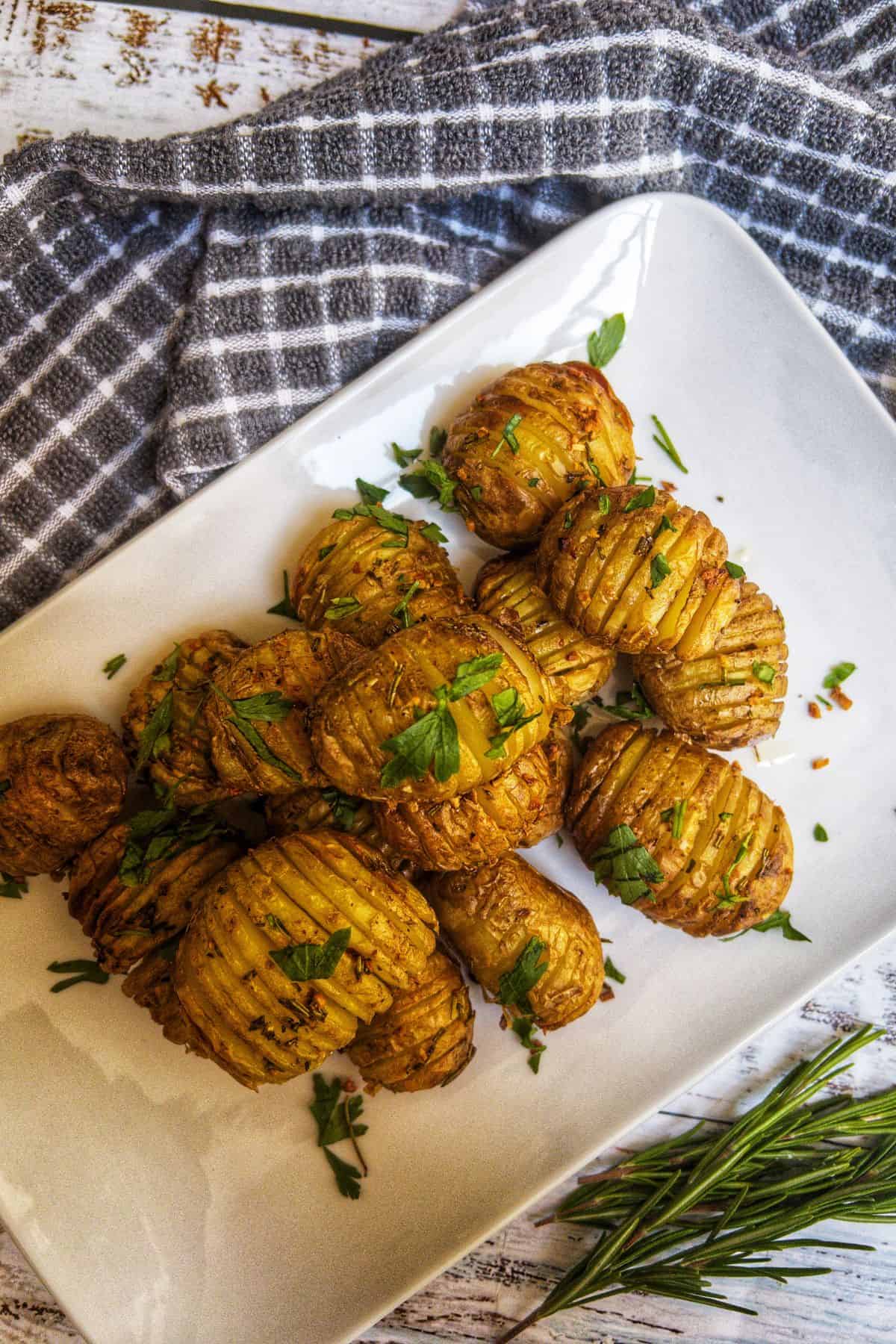 Jump to:
🥔 Ingredients
Baby Potatoes - Although a potato allergy is possible, they are quite rare, so potatoes are a great food to include as part of your diet if you have multiple food allergies.
Olive Oil - Use the best quality olive oil you can.
Garlic - I loooooove garlic!! The healthy benefits are unreal and I try to include it in as many recipes as possible. It can help your immune system, lower blood pressure, help to prevent cancer & dementia, its my superfood!
Dairy Free Butter - I used Flora plant butter to test this recipe and the results were great, however any dairy free butter will work.
Fresh Rosemary - Always use fresh where you can. If you can't find fresh rosemary you can substitute it for dried rosemary, just use a third of the amount as the dried herbs have a much stronger flavour.
Scroll to the recipe card for quantities.
✏️ How To Make This Recipe
💡 Top Tips
A helpful hack to help cut the hasselback potatoes more easily is to place the potatoes between two wooden spoon handles and slice. (See above picture)
This helps to stop you cutting right through to the bottom of the potato. You can also use a hasselback slicer like this one, although personally I haven't tried this and just use the wooden spoon method as I find this works well.
If the potatoes aren't level, slice a little bit off the bottom to make them flat and easier to slice.
⚡ Substitutions & Variations
Don't need to be dairy free? - Just use regular butter instead. If you use salted butter go a little easy on the seasoning.
Mix up the herbs! - Swap the rosemary for fresh parsley or chives. Why not try some fresh thyme and add a little grated lemon zest and juice to the basting mixture for a fresh zingy flavour!
Make them fully loaded! - Sprinkle some grated vegan cheese over the potatoes ten minutes before the end of the cooking time. Once they are out of the oven, top with vegan sour cream or Oatly creme fraiche, chopped crispy bacon and fresh chopped chives.
Spice it up! - Omit the garlic and rosemary and instead mix the melted butter and oil with a teaspoon each of smoked paprika & cayenne pepper for a fiery, aromatic flavour.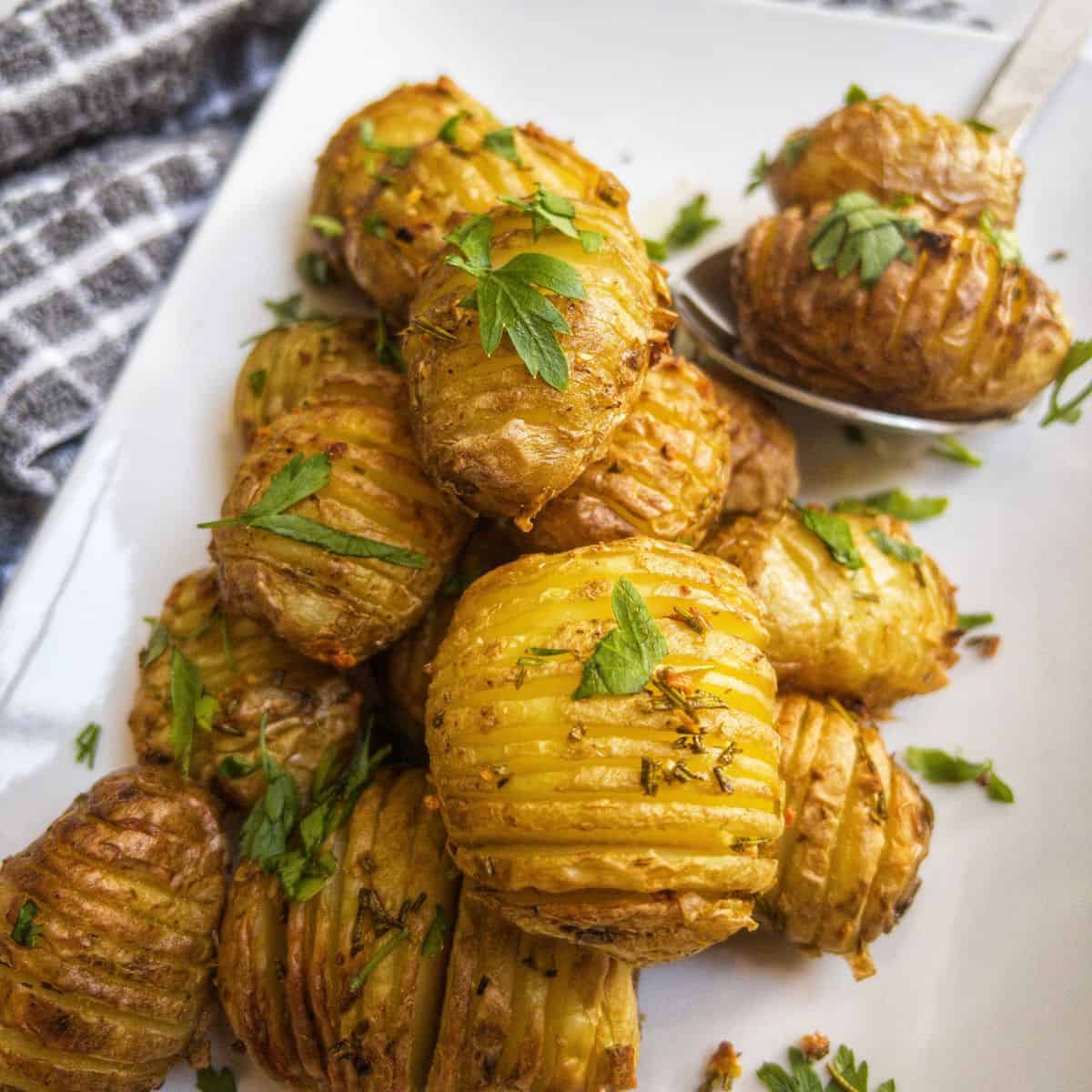 🍳 Equipment Used
❓ FAQ's
💫 Love this recipe? It would be great if you could leave a 5 ⭐ rating and comment below! Thanks x 💫
📖 Recipe
.