Using tofu instead of egg, this simple "no egg" fried rice with prawns is the perfect Friday night fakeaway. It's bursting with flavour, so much healthier than one from the Chinese takeaway and is ready in under 20 minutes!
It can also easily be adapted to suit different allergy requirements.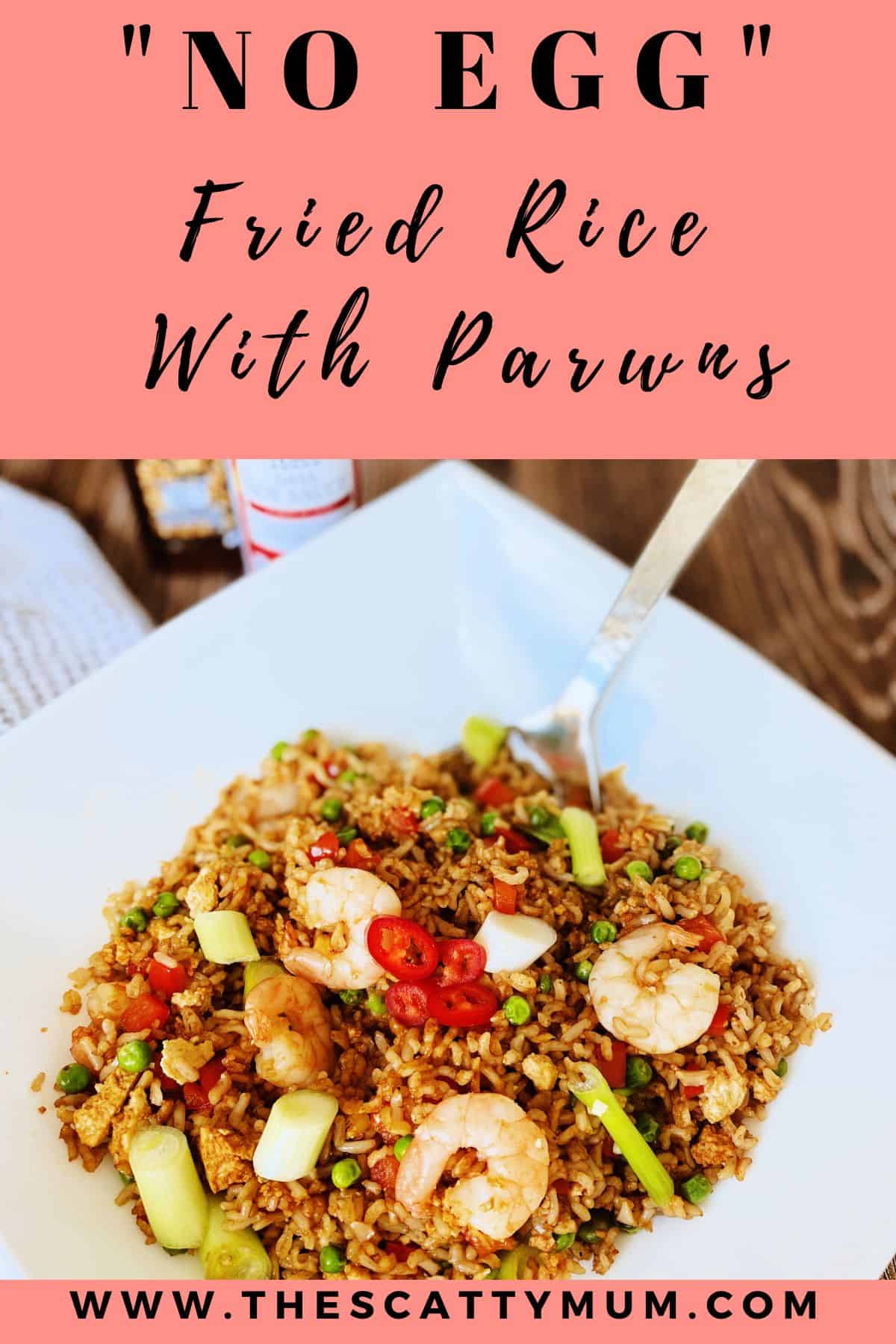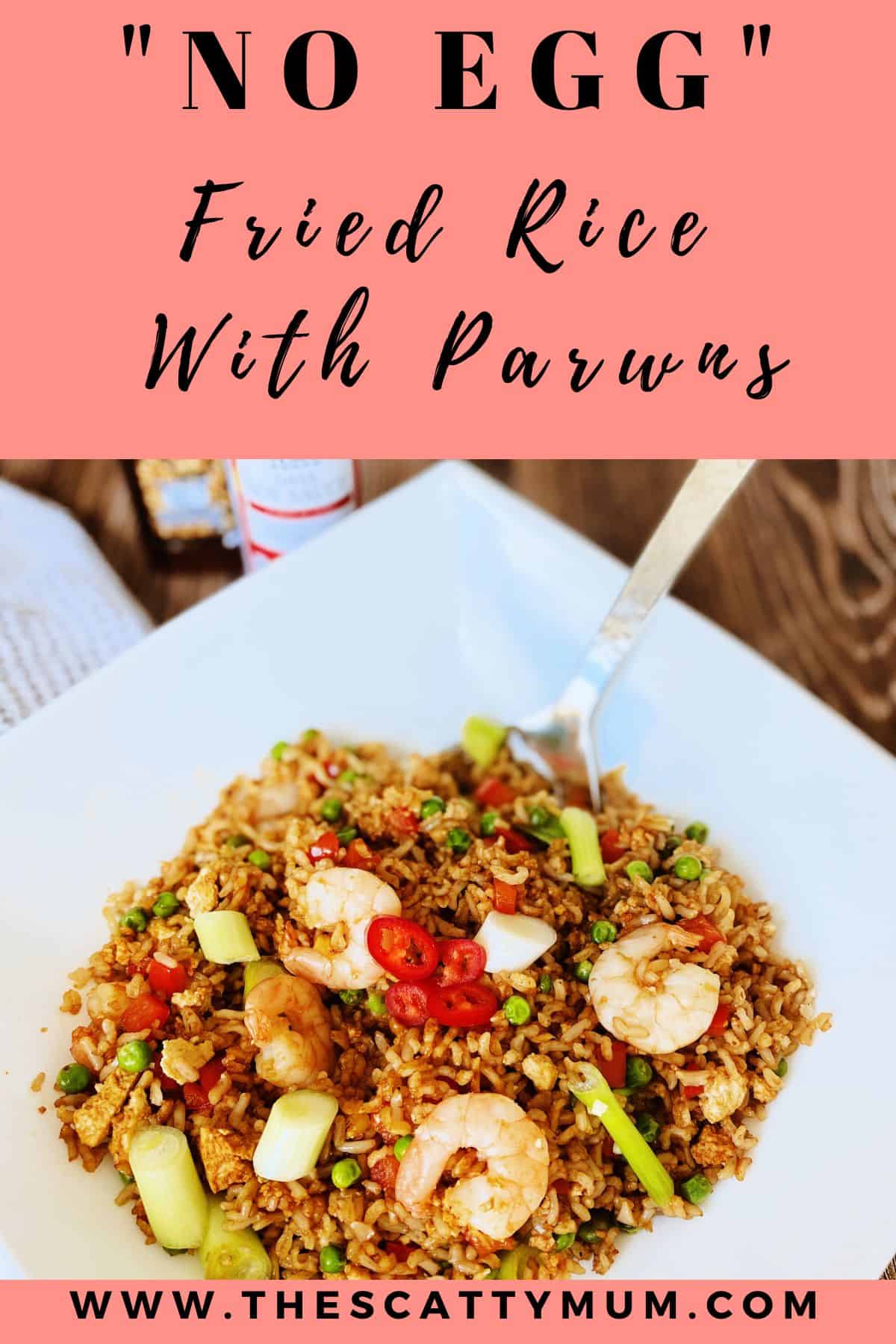 My daughter is always eyeing up our Chinese takeaway asking to try some, but with a strong peanut and egg allergy I have always said no as I am worried about the cross contamination and lack of allergy information available.
So I came up with this recipe for "No Egg" Fried Rice With Prawn, which she absolutely loved and said that she cannot wait to try some more Chinese food like these salt & pepper chips. (I better get back in that kitchen…).
If you like Indian takeaway food too you will love this Keema Rice recipe that I created too!
I had heard of using tofu as a scrambled egg substitute before, so thought I would give it a go and I wasn't disappointed. It crumbled really easily and the texture was almost identical to scrambled egg.
Looking for more ideas to cook with tofu? Check out these 17 Recipes Using Silken Tofu.
The best thing about fried rice is that its so adaptable! You can mix up the protein and veggies and use whatever you have available in the fridge! I have a couple of other fried rice options too like this Hot Dog Fried Rice & Pork Belly Fried Rice.
You can also serve it as a side dish alongside my Chinese style salt and pepper chicken wings, Chinese Crispy Chilli Chicken or as the main event!
Head a little bit further down the page to find all the alternatives you can use to suit your allergy requirements.
Looking for more dinner ideas? How about my Lemon & Garlic Chicken Tray Bake, Dairy Free Spaghetti Carbonara with Bacon or Easy Vegan Mixed Bean Chilli.
Jump to:
Ingredients
✋ Be sure to double check all packaging for allergens. ✋
Rice - I have used long grain microwave rice for quickness and ease, however you can use uncooked rice and boil first as per the packet instructions. Long grain is traditionally used in fried rice but you can also use basmati or wholegrain rice.
Garlic
Ginger - Fresh ginger is best
Frozen peas - Such a versatile ingredient and handy to have in the freezer.
Spring onions
Soy sauce - Be mindful of the salt content if you are cooking for young children. You can buy low salt versions like this one.
King Prawns - If you use frozen cooked prawns, ensure they are fully defrosted before using. You can use raw prawns for this recipe, just make sure they have turned pink and are fully cooked before serving. Cook this gambas pil pil to use up any leftovers.
Red pepper
Tofu - Tofu is made from dried soybeans that are soaked in water, crushed, and boiled and is commonly used as a meat alternative in the vegan world. Texture wise it is amazingly close to scrambled egg when crumbled.
Sesame oil
Black pepper-to season
How to Make Simple "No Egg" Fried Rice With Prawn
⬇️ Here you will find an overview of how to make the recipe. For full information on ingredients and quantities please see the recipe card at the bottom of the page ⬇️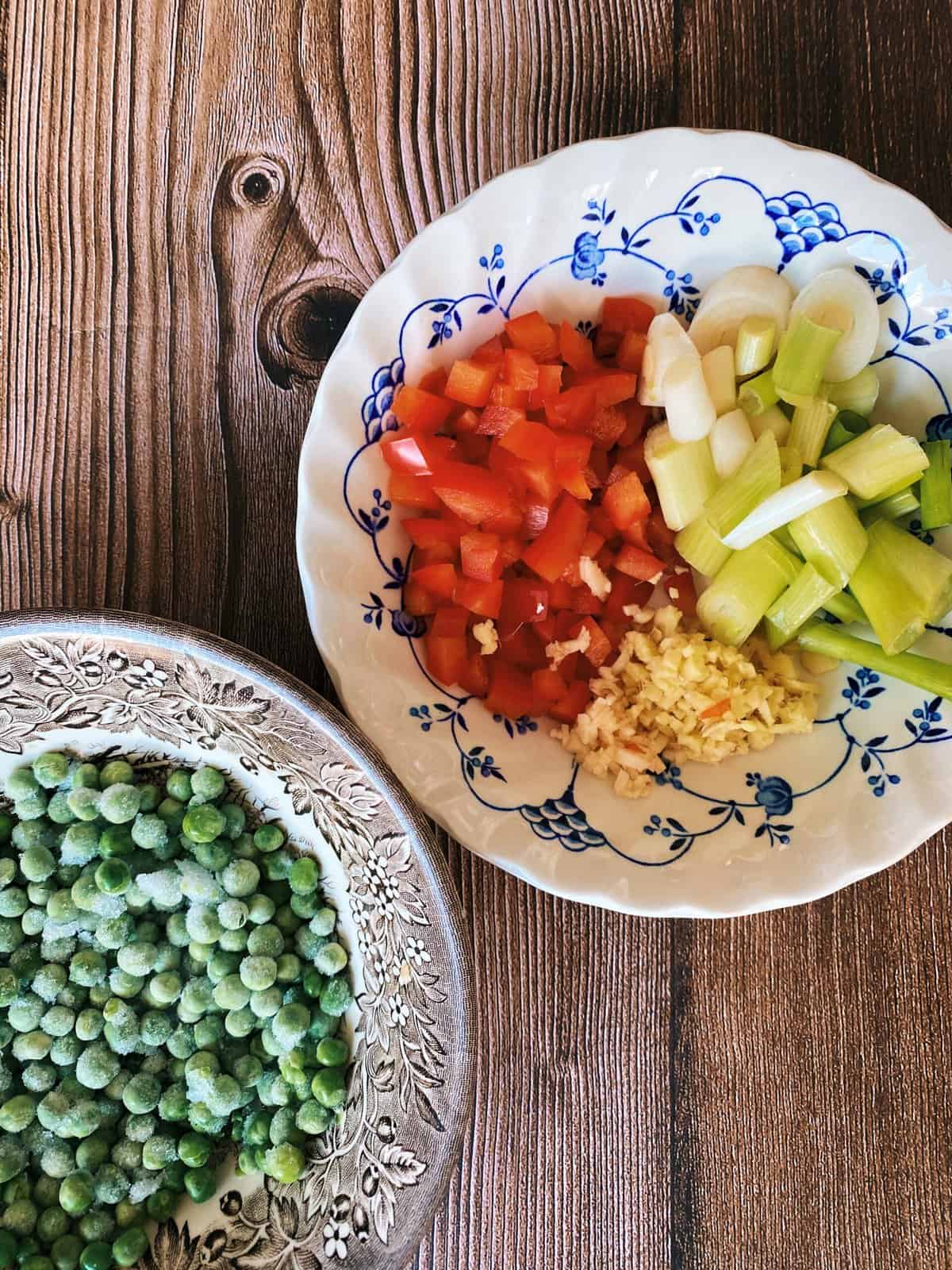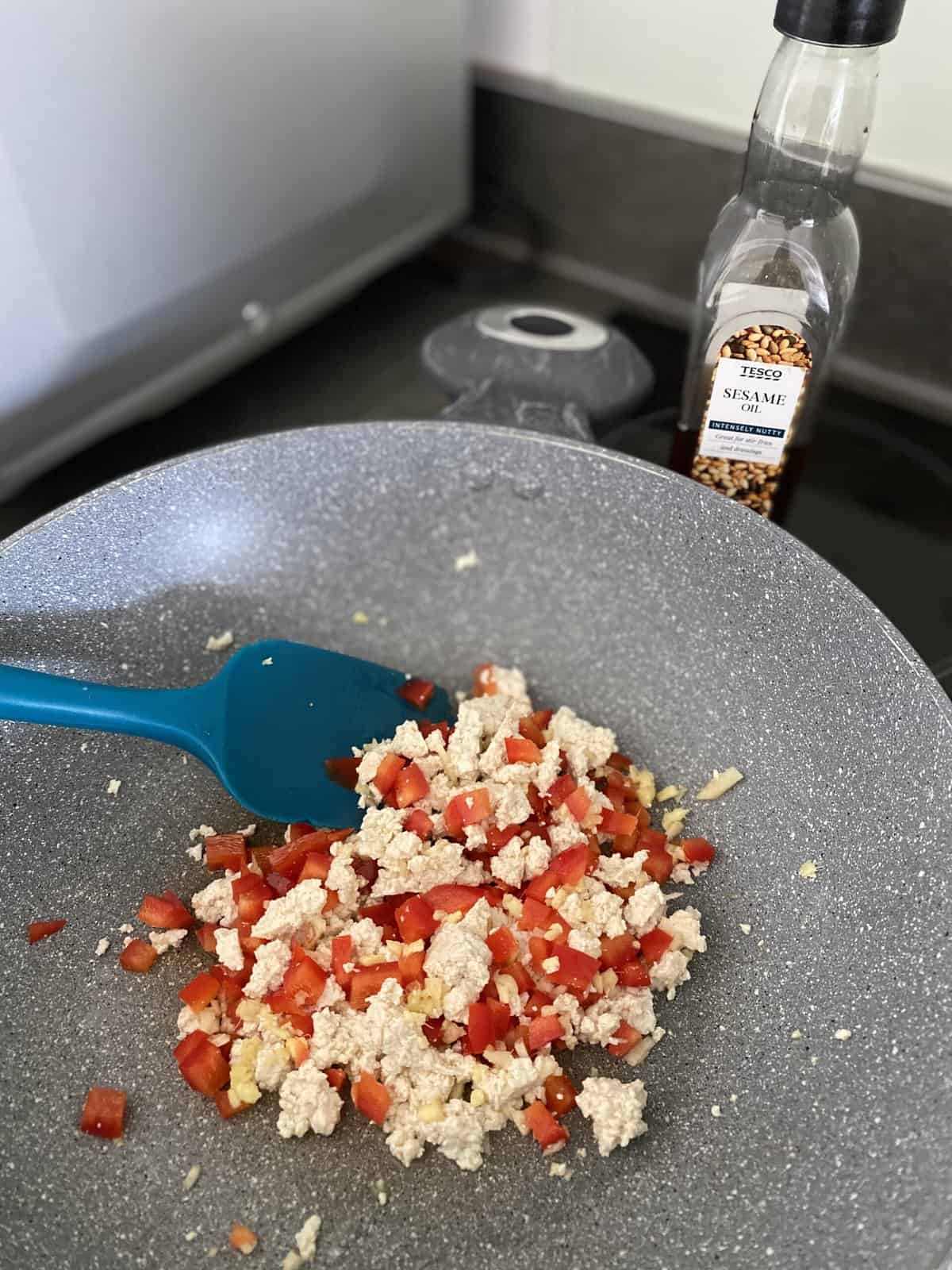 First, you need to prepare and chop your ingredients so they are all ready to be cooked at the same time, as the dish only takes a few minutes to cook.
Peel and chop the garlic and ginger very finely, dice the pepper into small squares and the spring onions into slanted chunks about 2 inches long - however chop them anyway you like!
Pop the peas in a saucepan and boil for 5 minutes.
I use microwave long grain rice for this recipe, as its just too easy not too, but you can use normal rice and boil it if you prefer.
Whilst the peas are cooking, heat the sesame oil into a wok or frying pan.
Crumble the tofu in and cook, stirring for approx 1 minute before adding in the garlic, ginger, red pepper and defrosted king prawns. Fry for a few more minutes.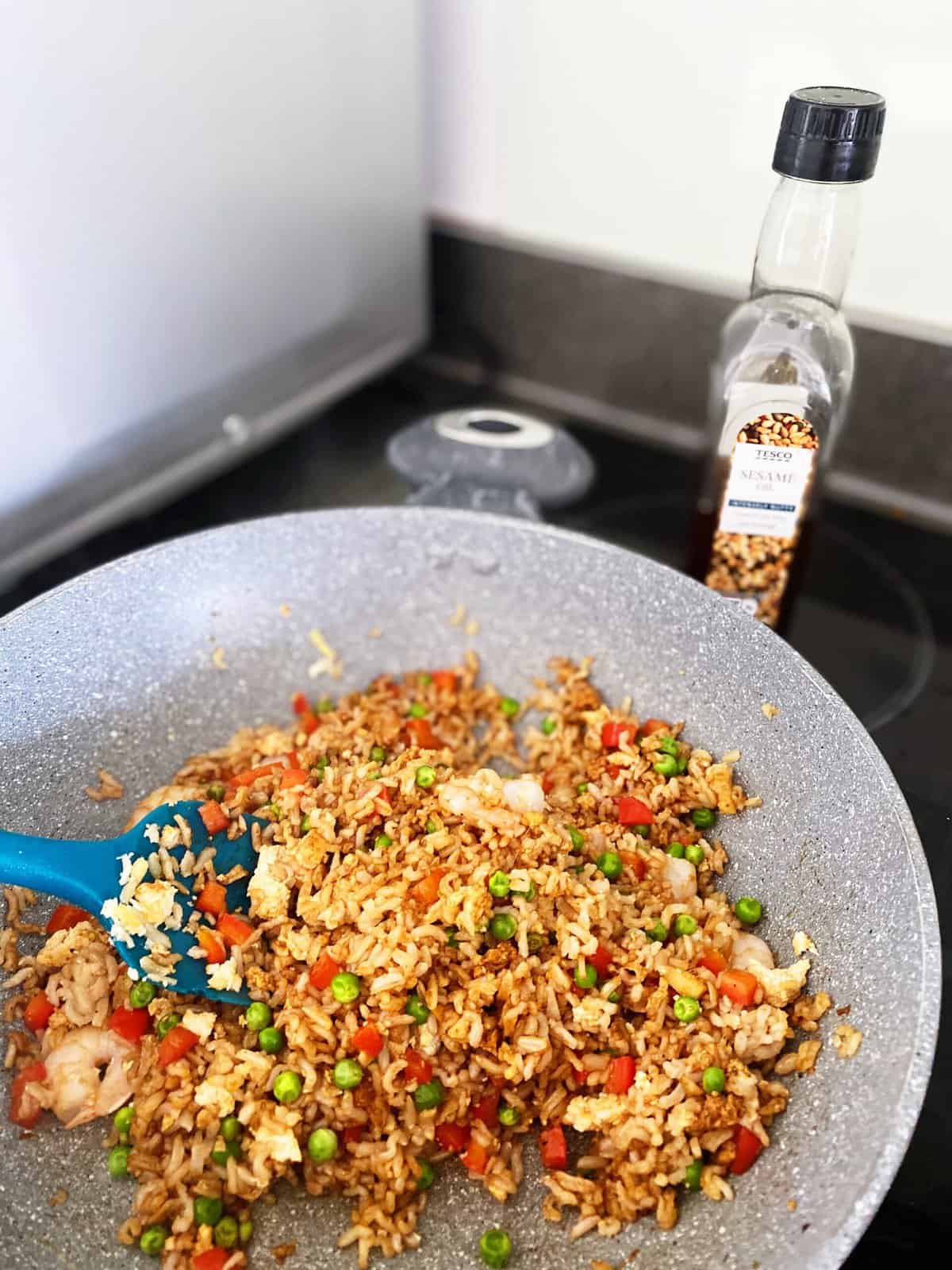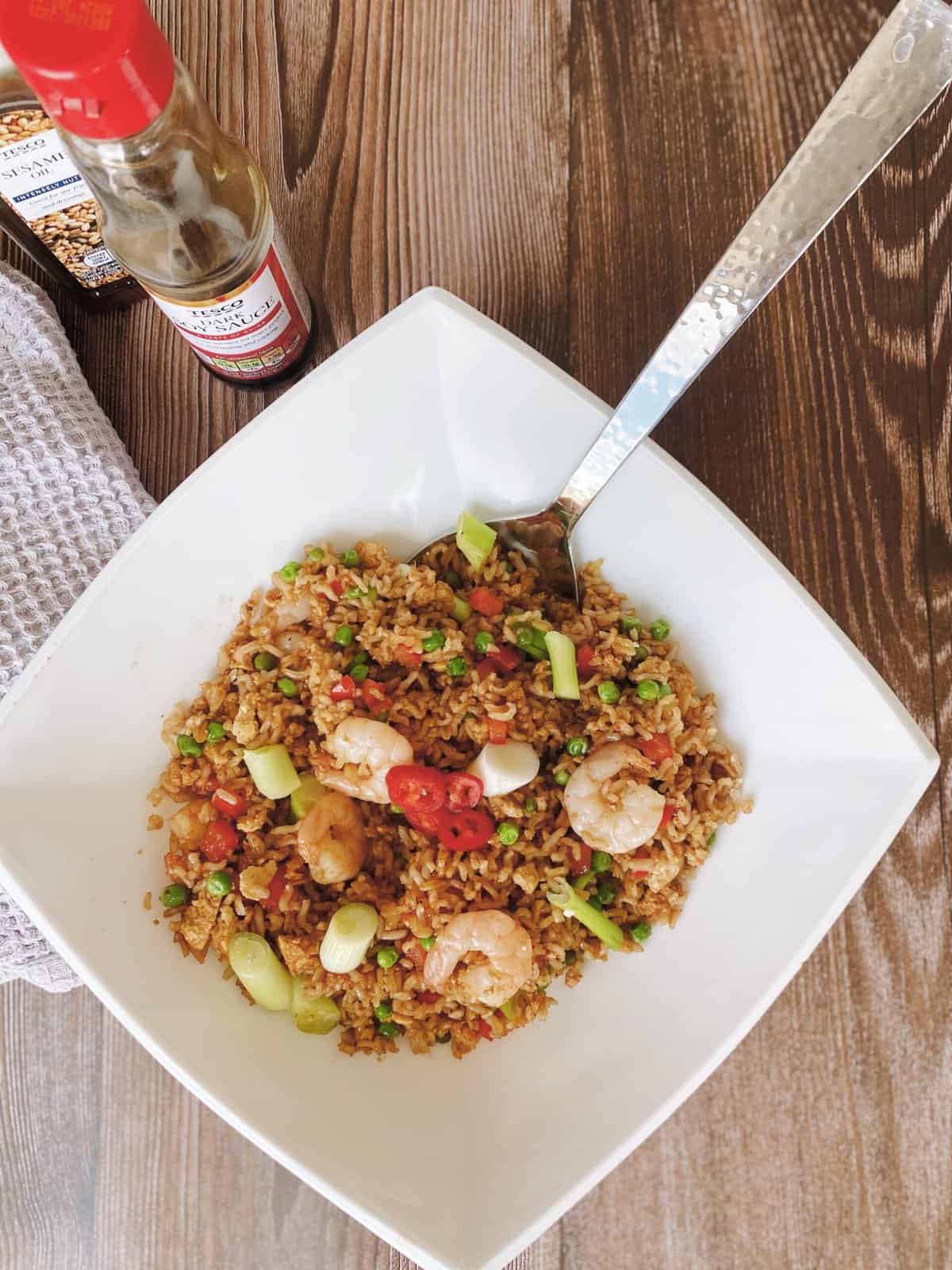 Drain the cooked peas and pour into the frying pan with the rice. Add the soy sauce, season well with pepper ( the soy sauce will provide the salt) and then give it a really good stir.
Remove from the heat, add the spring onion, stir again and serve.
Hint: Use the tip of a teaspoon to scrape the skin from and peel the ginger.
Substitutions
Allergic to sesame?
Use vegetable or olive oil instead.
Allergic to Soya?
Instead of tofu, you could use this Orgran Vegan Easy Egg which uses chickpea flour instead.
Substitute the soy sauce for some coconut aminos - a great alternative!
Allergic to Gluten?
Swap the soy sauce for some Tamari, which is a tasty gluten free soy sauce.
Allergic to Seafood?
Use cooked chicken or pork instead of the king prawns or just leave them out completely.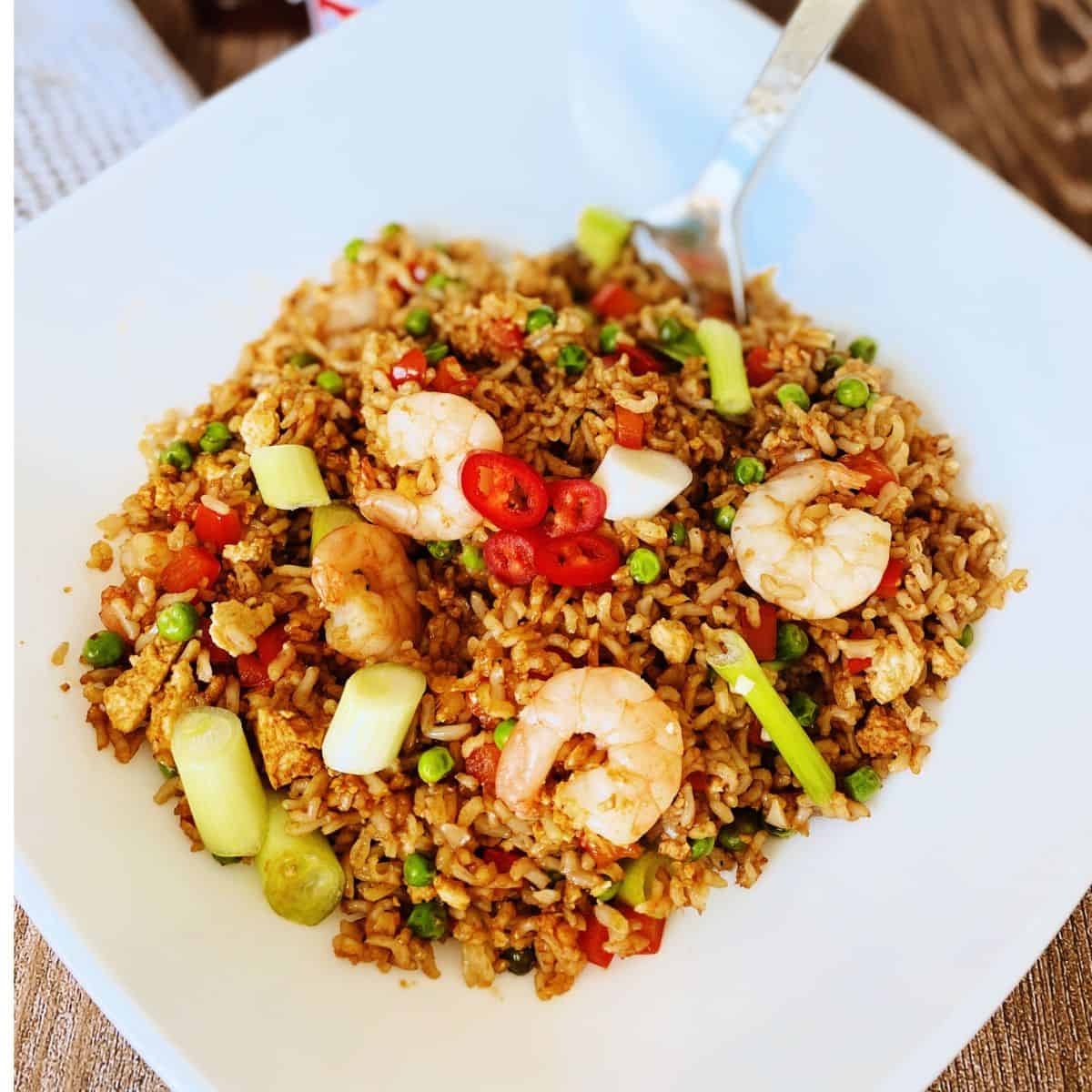 Variations
Spicy - add a sliced red chilli as a garnish on top of the rice or stir through some chopped red chilli when adding the red pepper.
Low salt - If cooking for young children use a low sodium soy sauce like this one.
Veggies - Mix up the vegetables and throw in whatever you have in the fridge! Carrots, broccoli and baby corn work really well.
Storage
Cool any leftovers as quickly as possible and store in a sealed container in the fridge. It will keep for 1 day.
I am always a but wary of re-heating rice, due to the bacteria and if you use microwave rice you cannot re-heat this again. I ate this dish cold the next day for lunch and it was lovely,
If using frozen prawns, then this dish cannot be frozen as you cannot re-freeze the prawns. It is a dish best eaten straight away.
I'd love to know what you think of the recipe in the comment section below, why not leave a rating too! 🙂
PLEASE DOUBLE CHECK ALL PACKAGING FOR ALLERGENS
If you loved this recipe, please leave me a 5🌟 rating or comment below. I really do appreciate it. 😊
📖 Recipe
"No Egg" Fried Rice
Using tofu instead of egg, this special fried rice is the perfect Friday night fake away. This "No Egg" special fried rice is bursting full of flavour, is so much healthier than one from the Chinese takeaway and is ready in under 20 minutes!
Ingredients
1

Pack

Microwave long grain rice

1

clove

Garlic

finely chopped

1

tablespoon

Ginger

finely chopped

50

g

Frozen peas

3

Spring Onions

Sliced into 2-3 inch rounds

2

tablespoon

Soy Sauce

10

cooked

King prawns

fully defrosted

½

Red peppers

chopped into small squares

75g

Tofu

crumbled into scrambled egg like pieces

1

teaspoon

Sesame oil

can be substituted with olive or vegetable oil

Black pepper

to season
Instructions
Defrost your king prawns in the fridge for at least 8 hours.

Chop your garlic, ginger, spring onion and red pepper as detailed above.

Put the peas in a saucepan and boil for 5 minutes.

Whilst the peas are cooking, heat the sesame oil in a saucepan/wok on a medium to high heat.

Add the crumbled tofu to the wok and stir for a minute.

Cook your rice in the microwave as per packet instructions.

Next, add the garlic, ginger and red pepper to the wok. Fry and stir for 2 minutes.

Add the cooked king prawns to the wok and cook for a further 2 minutes, until hot.

Drain the peas and add to the wok along with the cooked rice.

Add in the soy sauce, stir well. Sprinkle over the spring onion, season with black pepper and stir again.
Nutrition