This deliciously creamy dairy-free spaghetti carbonara also contains no egg, so is perfect for those with milk & egg allergies. This is a quick and tasty midweek recipe that you will make again and again for the whole family to enjoy!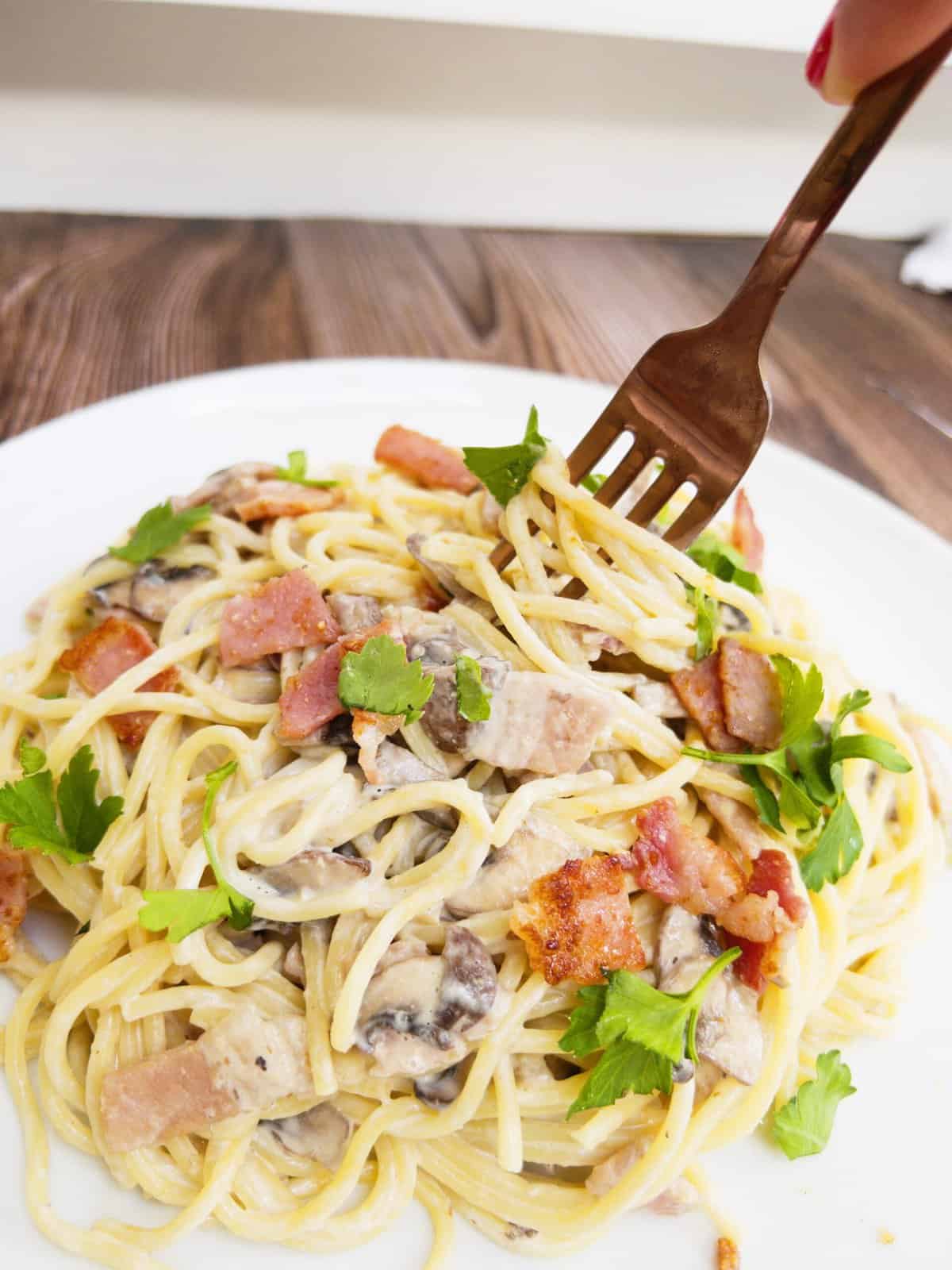 *Disclosure: This post may contain affiliate links - This means I receive a commission for purchases made through those links, at no cost to you. Please click here for further info*
I'm not going to pretend to you this is an authentic carbonara recipe, as traditional carbonara contains milk & eggs.
However, what I can promise you is this dairy-free carbonara is so CREAMY & DELICIOUSLY TASTY that you won't even care if it is traditional or not!
This is a perfect midweek, quick and tasty kid-friendly, family dinner that you can all enjoy together.
Dairy Free pasta features heavily on the menu each week in our house. We love to alternate this dairy-free carbonara sauce with other pasta dishes like this dairy free creamy mushroom pasta bake, tomato pasta sauce with hidden veggies & vegan creamy mushroom and broccoli pasta.
If the thought of raw or partially cooked egg in your dinner gives you the ick or you have an egg and dairy allergy, so replacing the egg with cream just won't work, then this pasta carbonara recipe is the ideal alternative as it is also egg free!
Serve with some dairy-free garlic bread to mop up those last bits of sauce in the bowl!
Jump to:
🤔 What Is In An Authentic Carbonara?
Traditional spaghetti alla carbonara is a really simple dish that uses just a few ingredients. It is made with eggs, guanciale (which is an Italian cured meat made from pig cheeks) or sometimes pancetta is used instead, pecorino romano cheese and freshly ground black pepper.
You may be surprised to not hear cream in this list! While many store-bought carbonaras and various recipes you come across in cookbooks or online incorporate milk or cream, the authentic traditional recipe relies solely on beaten raw eggs to create its delightfully creamy sauce.
My version of carbonara contains no cheese & no egg so is suitable for people with milk and egg allergies.
🥘 Ingredients Used & Substitutions
✋ Be sure to double check all packaging for allergens. ✋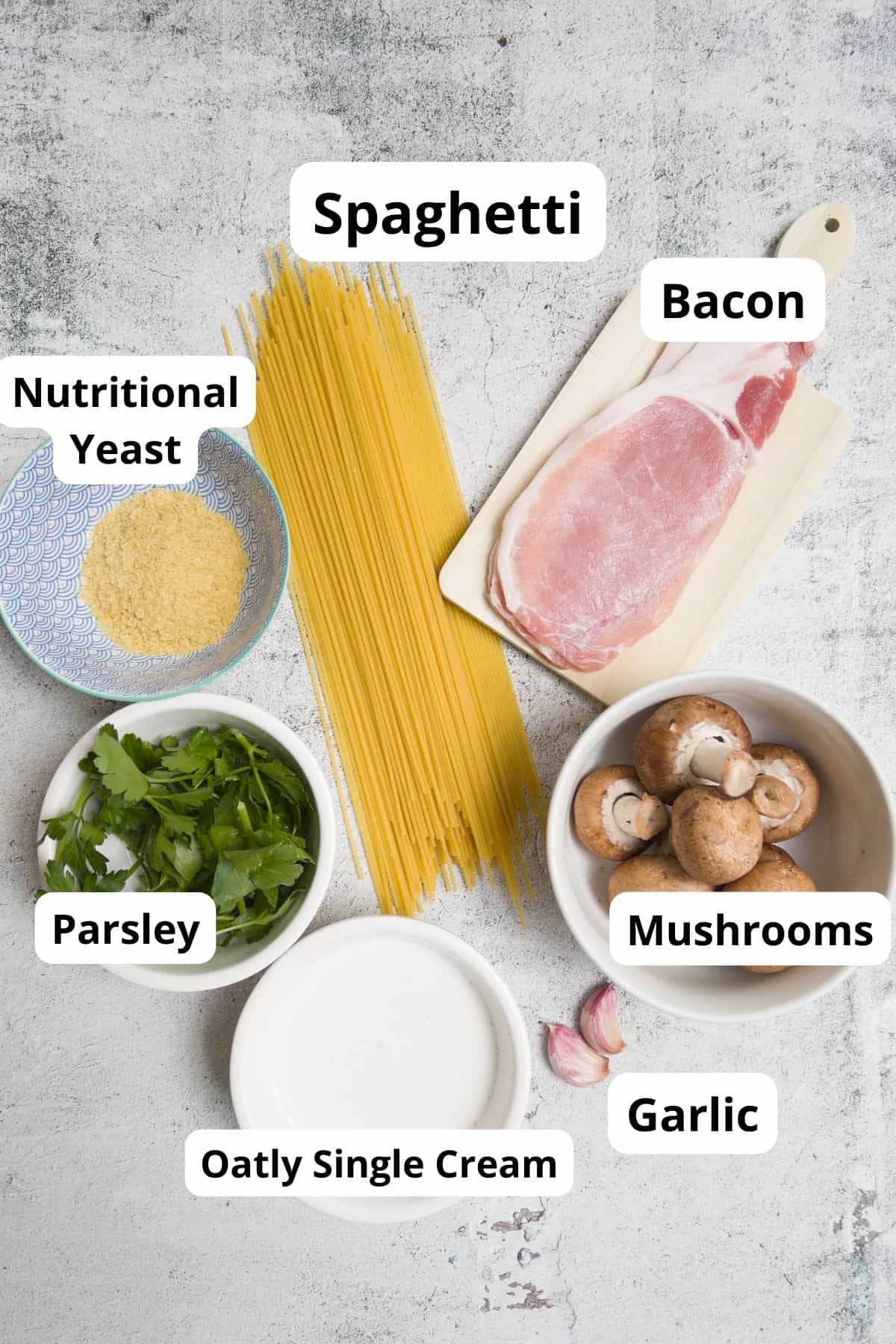 Spaghetti: Typically, spaghetti is the go-to choice, but feel free to opt for other pasta varieties. Long, stranded options such as linguine or rigatoni would make excellent alternatives.
Dairy-Free Cream: I love Creamy Oat Cream By Oatly as it is such a great dairy-free alternative to normal cream. If you are in the US then Oatly products are gluten-free, however sadly in the UK they are not. You can also use any other neutral tasting dairy free single cream, like a soya cream.
Bacon: Depending on your taste preference you can either use smoked or unsmoked bacon. I prefer to leave the fat on to crisp up as it cooks, as this adds to the flavour, but you can trim this before cooking if you are not a fan of cooked fat. Pancetta cubes can also be used.
Mushrooms: I prefer to use chestnut mushrooms as they have more flavour than closed cup mushrooms. If you have fussy kids like mine, you can chop the mushrooms super small with a food chopper so they are barely noticeable.
Nutritional Yeast: Packed full of vitamins, minerals and protein, nutritional yeast also gives a cheesy flavour to the carbonara and helps to thicken up the sauce.
Garlic: This is not normally used in authentic carbonara, however, I love garlic and it is so good for you, that I couldn't leave it out.
⚡ Variations
To Make It Gluten Free
Simply swap the spaghetti for any gluten-free pasta or spaghetti and use a soya cream.
To Make It Vegan
You can choose to leave out the bacon completely or use vegan bacon instead of normal bacon. If you decide to not add any bacon, you may want to add some extra vegetables like peas or sweetcorn instead.
Protein
If you don't have any bacon in the fridge you can substitute it for ham. If you want to make the dish a bit more lavish, why not use some pancetta!
Vegetables
If mushrooms aren't your thing, why not swap them up for some peas? Just add them to the pasta for the last couple of minutes of cooking.
✏️ How to Make Dairy Free Spaghetti Carbonara (No Egg)
⬇️ For the full printable recipe, along with ingredient quantities, scroll to the recipe card at the end of the post ⬇️
Start off by cooking the spaghetti according to the packet instructions. Remember to set aside about a cupful of the cooked pasta water, as this will help to thicken the sauce and to help it stick to the pasta.
Next, chop the bacon into bite-sized pieces, then either finely chop the garlic or crush it using a garlic press. As for the mushrooms, you have the option to slice them or, if you're dealing with fussy eaters, you can use a food chopper to dice them into tiny pieces, so they won't even notice them in the dish!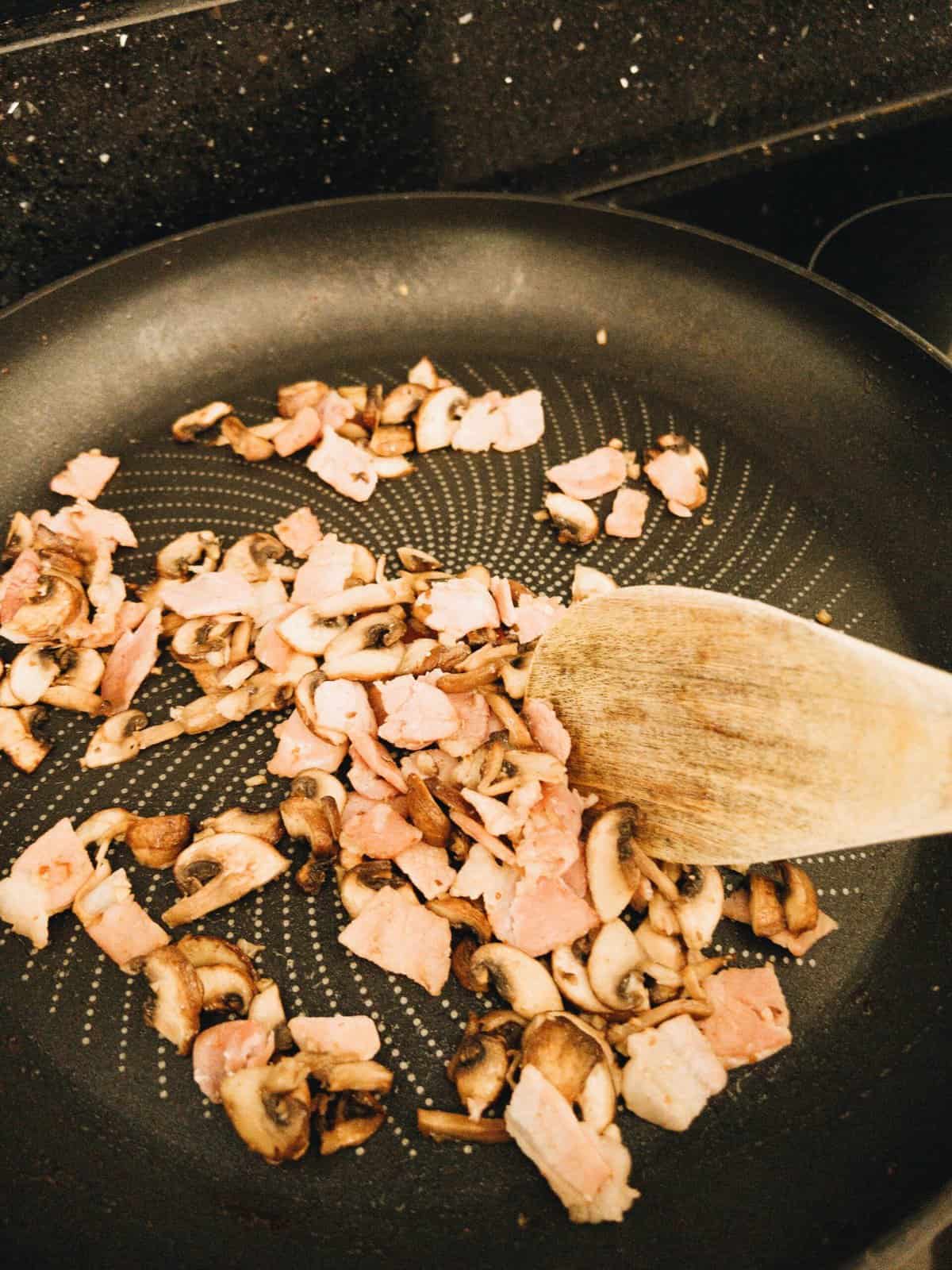 Preheat a frying pan over a medium heat and add a dash of olive oil. Once the pan is hot add the bacon to the pan. Give it a good stir and let it cook until the bacon is crispy, stirring regularly to ensure it cooks evenly.
When the bacon is nicely cooked, it's time to add the mushrooms. Add them to the pan and continue frying until the mushrooms have softened nicely.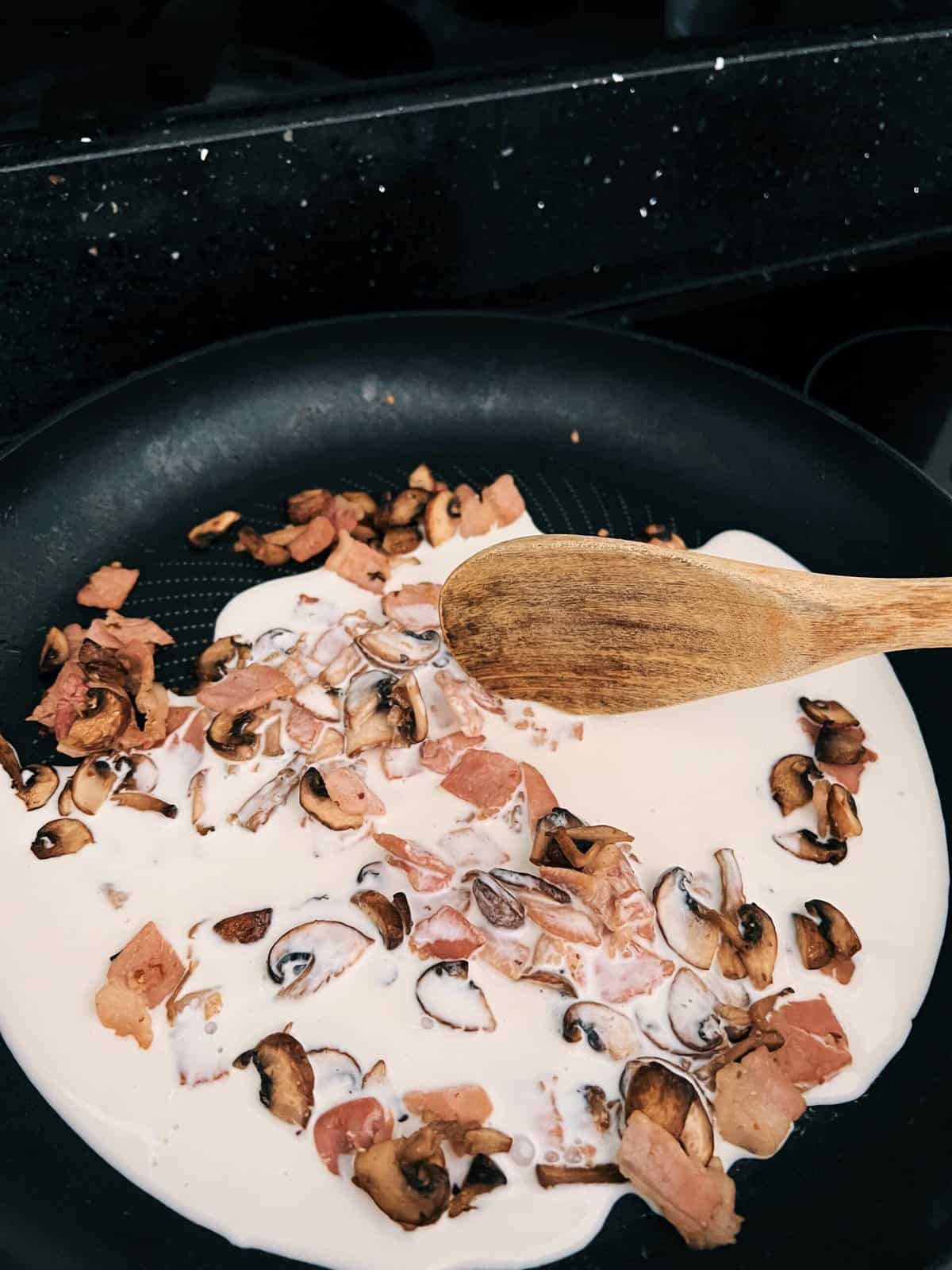 After the mushrooms have softened, add the finely chopped garlic to the mix. Allow it to cook for about a minute, releasing its aromatic flavours.
Next, carefully drain the cooked spaghetti, making sure to reserve a portion of the pasta water.
Now, let's prepare the sauce. Combine the Oatly cream and nutritional yeast, and pour them into the bacon mixture in the pan. Add about half a ladleful of pasta water to the pan. Stir the ingredients for a couple of minutes, giving the sauce time to thicken and reach its desired consistency.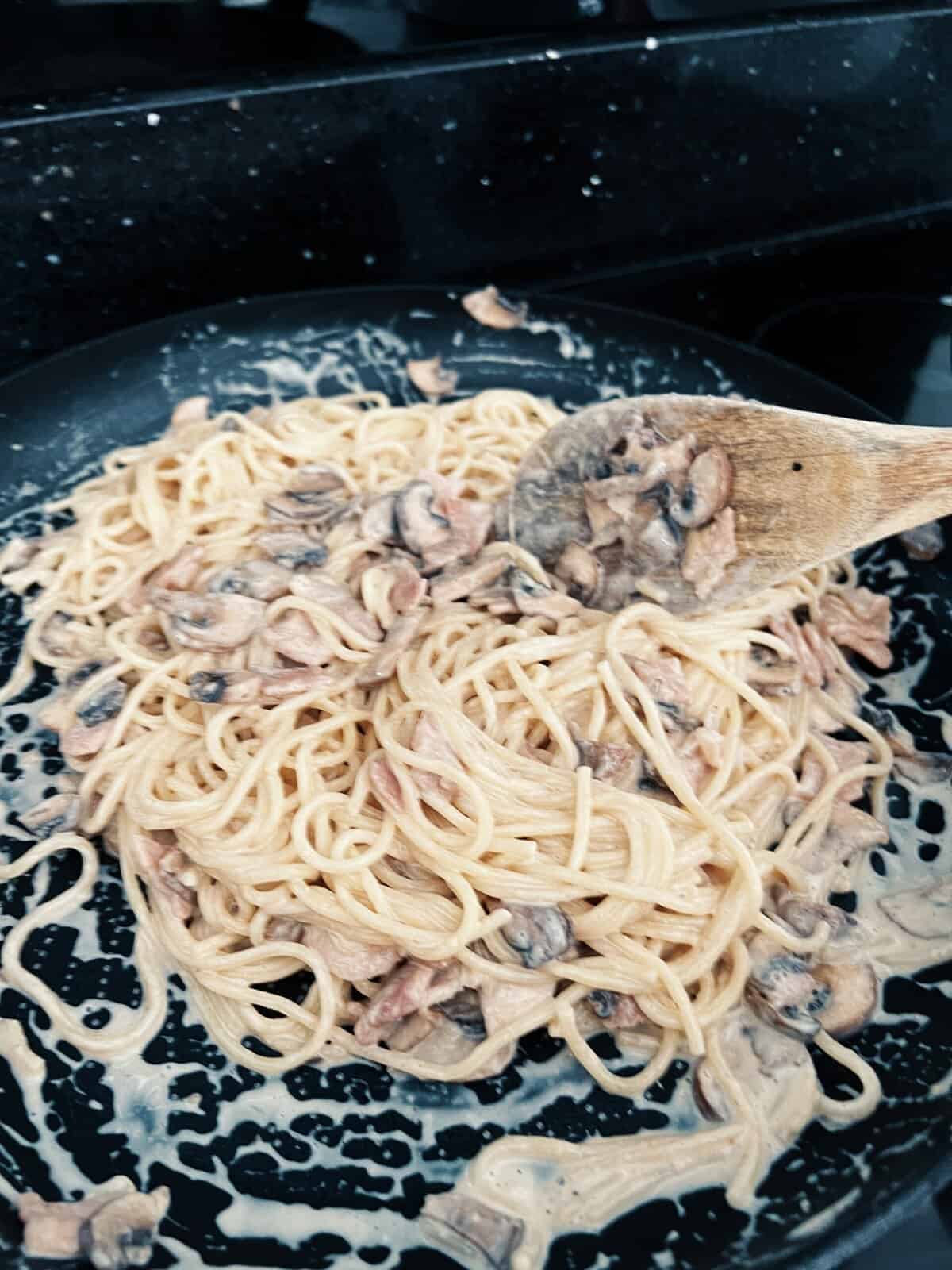 To bring it all together, add the drained spaghetti to the pan and stir well until each strand is evenly coated with the creamy sauce.
Sprinkle some salt & freshly ground black pepper over the dish and stir. Have a little taste of the creamy pasta and add more seasoning if necessary.
For some extra freshness, you may like to sprinkle over some freshly chopped parsley.
💡 Tips & Tricks
Don't forget to reserve a cup of pasta water to add to the sauce, this is your secret ingredient! It adds flavour to the dish, helps thicken the sauce and helps the sauce cling to the pasta.
Finely dice the mushrooms in a food chopper into really small pieces if you have picky eaters.
Although you can store the pasta carbonara in the fridge once cooked, I REALLY recommend eating it straight after cooking for the best results.
If you are using smoked bacon or pancetta and cooking for small children, you may not need to add salt.
🥡 Storage & Freezing
Storage
This dish is at its best when eaten straight away, as this is when the sauce will be at its creamiest, however, it can be stored in the fridge in an airtight container for up to 3 days.
To Re-Heat
Either reheat in the microwave for 2-3 minutes, stirring halfway through or on the hob in a saucepan on a low heat until piping hot. You may need to add a couple of tablespoons of water or dairy free cream to the pasta to loosen the sauce.
The pasta may become soggy and the sauce will evaporate a little so the taste or texture may not be as appealing.
Freezing
The same goes for freezing, I wouldn't overly recommend it as the sauce and the texture of the dish won't be as creamy, but if you want to, it is perfectly safe to freeze this dish for up to 3 months. When ready to use, defrost in the fridge overnight and reheat as above.
If you can, I would recommend eating this straight after cooking!
💬 FAQ
Can I make this recipe using any type of pasta?
Of course!
The most common option is spaghetti as the sauce clings beautifully to the strands and this is the traditional pasta for carbonara, however, you can use any pasta. Why not try a linguine, rigatoni or fettuccine?

Can I make dairy-free carbonara ahead of time?
Dairy-free carbonara is best enjoyed immediately after preparing it to maintain its creamy texture. However, you can prepare the components in advance and assemble the dish before serving to save tim
I'd love for you to leave a rating and message in the comments if you enjoy the recipe 🙂
📖 Recipe
Dairy Free Spaghetti Carbonara (No Egg)
Deliciously creamy, this dairy free spaghetti carbonara with bacon also contains no egg, so is perfect for those with milk & egg allergies. A quick and tasty midweek recipe the whole family will love!
Ingredients
300

g

Dried spaghetti

can be substituted for gluten free

300

ml

Oatly cream

can be substituted for soya cream

8

rashers

Back bacon

smoked or un-smoked

2

tablespoon

Nutritional yeast

200

g

Mushrooms

2

cloves

Garlic

crushed

1

tablespoon

Olive oil

Black pepper

to season
Instructions
Follow the instructions on the packet to cook the spaghetti. Remember to keep aside a cup of the cooked pasta water, as it will help thicken the sauce and bind it to the pasta.

Prepare the bacon and mushrooms by chopping them. Finely crush the garlic, either by finely chopping it or using a garlic press.

Heat a frying pan over medium heat with a small amount of oil. Once the pan is hot, add the bacon and fry for 4 minutes, stirring regularly.

Add the mushrooms to the pan and continue frying for another 3 minutes until the mushrooms become soft.

Next, add the crushed garlic and cook for an additional minute.

Drain the cooked spaghetti, but make sure to save some of the pasta water.

In the frying pan, pour in the Oatly cream and nutritional yeast. Add around half a ladleful of the pasta water and stir well for a couple of minutes to allow the sauce to thicken.

Stir in the cooked spaghetti until the sauce coats all the strands evenly.

Season the dish with salt & freshly ground black pepper, then stir again and taste, adding more if necessary.

Garnish with chopped parsley and serve immediately.
Notes
Add the ladle of pasta water into the sauce a little at a time, you may not need it all!
Nutrition
Calories:
597
kcal
Carbohydrates:
62
g
Protein:
16
g
Fat:
32
g
Saturated Fat:
18
g
Polyunsaturated Fat:
2
g
Monounsaturated Fat:
10
g
Cholesterol:
86
mg
Sodium:
46
mg
Potassium:
487
mg
Fiber:
4
g
Sugar:
5
g
Vitamin A:
1109
IU
Vitamin C:
2
mg
Calcium:
70
mg
Iron:
2
mg