The perfect summer dish! Whip up this zingy Lemon Orzo Pasta Salad With Cucumber & Feta in under 20 minutes! Packed full of fresh herbs this is a great accompaniment to any BBQ. Includes dairy free and gluten free options.
*Disclosure: This post may contain affiliate links - This means I receive a commission for purchases made though those links, at no cost to you. Please click here for further info*
Summer is here! I love making pasta salads when the weather is warm, they are really versatile as there are so many types of pasta out there and an endless choice of what you can mix into the pasta.
One of my favourites is my Chorizo & Red Pepper Pasta Salad, although this orzo salad is now up there in joint first place!
This lemon orzo pasta salad with cucumber and feta is fresh, herby, has a lemony zing and is packed full of goodness!
It's super easy to make, just cook the pasta, chop the herbs, cucumber and cherry tomatoes (which the kids will love to help with) make the dressing and mix together!
Ideal for a summer picnic, serving alongside your BBQ or as a lunch standing tall and proud in its own right! This is a pasta salad the whole family from your toddler, through to Grandma will love!
Can't eat gluten or dairy? Fear not, read on to find out how you can easily make this salad gluten and dairy free!
Jump to:
Ingredients & Substitutions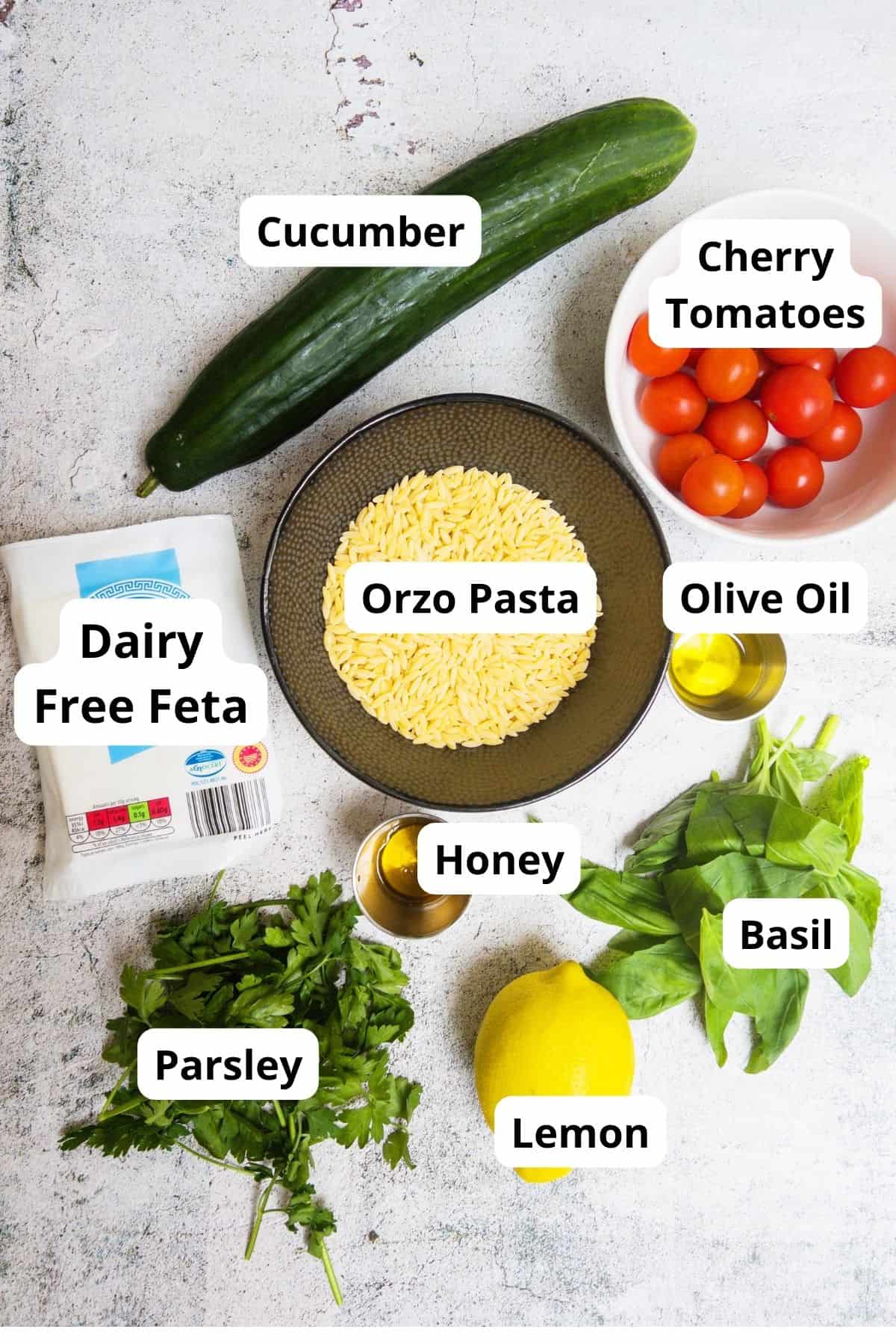 Orzo Pasta - The small rice shape of orzo works really well in this salad. In the UK it is quite difficult to find a gluten free version, so if you need to make this dish GF, you can substitute orzo for another small pasta like this Gluten Free Anellini or use long grain rice and transform it into a rice salad!
Feta - The salty feta compliments the fresh crunchy cucumber. For a dairy free version why not try this Violife Greek White feta style cheese. If cooking for children and they are not keen on the feta flavour, why not use mozzarella instead?
Cucumber
Cherry Tomatoes - Are sweet and juicy and are my preference for this recipe. Although you could use standard tomatoes and chop into small pieces.
Lemon - Both the juice and the zest of the lemon is used in this recipe, this is the star ingredient! You can buy waxed or unwaxed lemons. Waxing is carried out to preserve the freshness of the skin.When using the skin of the lemon for something e.g zesting or slicing to put in a drink, I recommend using unwaxed. Waxed is fine if you are just using the juice inside.
Fresh Basil - Fresh is best! I wouldn't recommend substituting for dried herbs as it will result in an all together different flavour.
Fresh Parsley - Along with the basil, adds a fresh herby flavour to the dish.
Olive Oil
Honey - Used with the olive oil and lemon for the dressing. The honey tones down the sharp lemon flavour. Note that honey is only suitable for babies from 12 months old.
Scroll to recipe card for quantities.
How To Make Lemon Orzo Pasta Salad With Cucumber & Feta
Cook the orzo as per packet instructions. When cooked, drain and then run the orzo under cold water. This will stop the pasta sticking together and halt the cooking process so the pasta will not go soggy.
Hint: Making this salad a bit ahead of time and letting it sit in the fridge will allow the flavours to really soak into the salad.
Equipment Used
A salad dressing shaker is really handy to have as you can safely mix up the dressing without worrying if its going to explode all over the kitchen! (If you don't have one of these just use a small pot with a good, sturdy lid)
I love a bright salad bowl Here are a few of my favourites!
Lemon Zester - this can also be used to grate parmesan and ginger!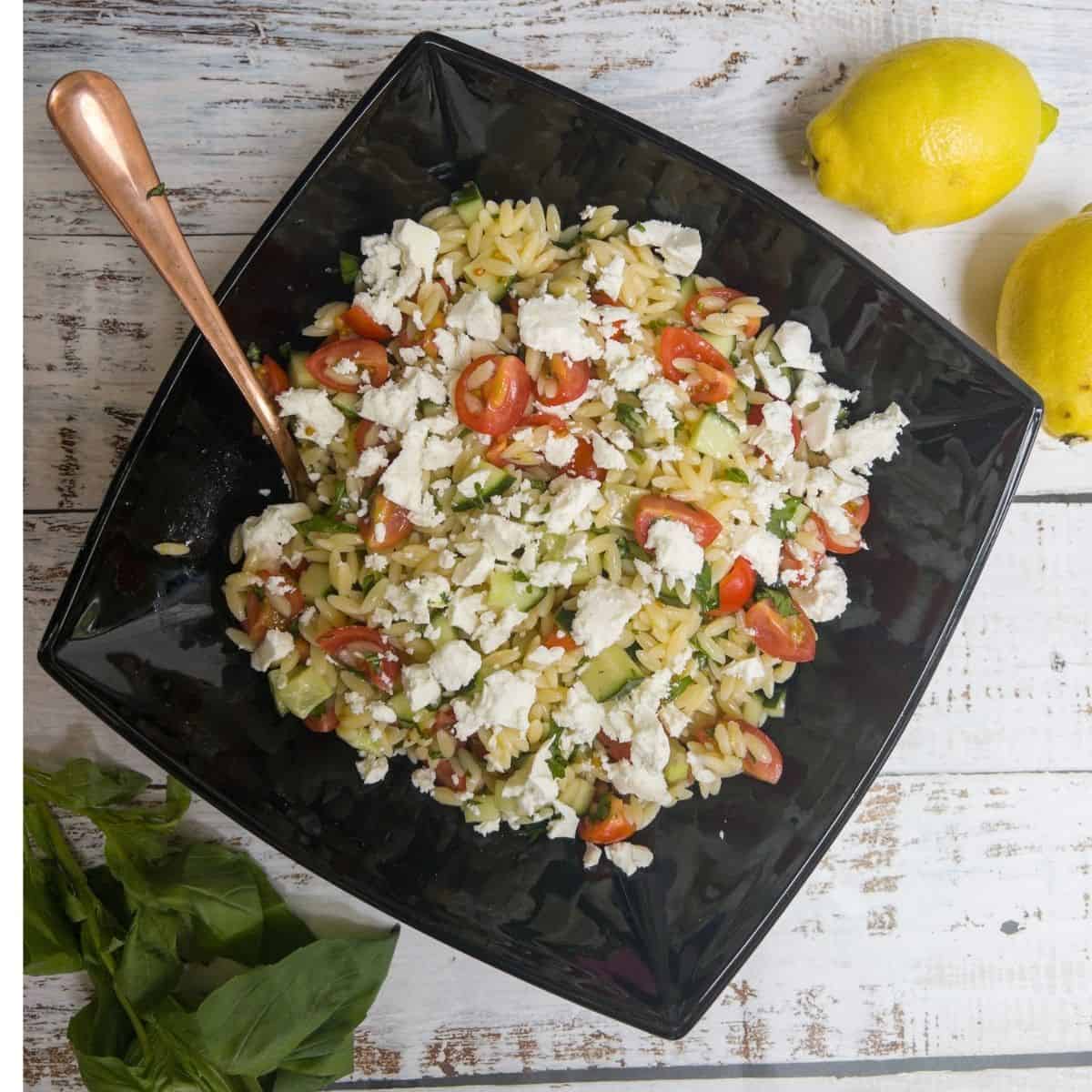 Storage
You can store this orzo pasta salad in the fridge in an airtight container for up to 3 days. If the salad is a little dry, simply drizzle some olive oil over the top of the pasta and stir though before serving.
I wouldn't recommend freezing this recipe, as it wouldn't hold up to defrosting aesthetically, however it is perfectly safe to do so for up to 3 months.
FAQ's
Let me know if you love this recipe in the comments below!