Wondering what to serve with pasta salad? Check out these 21 delicious ideas to serve with your next summer BBQ. Meat, fish and vegan options to choose from!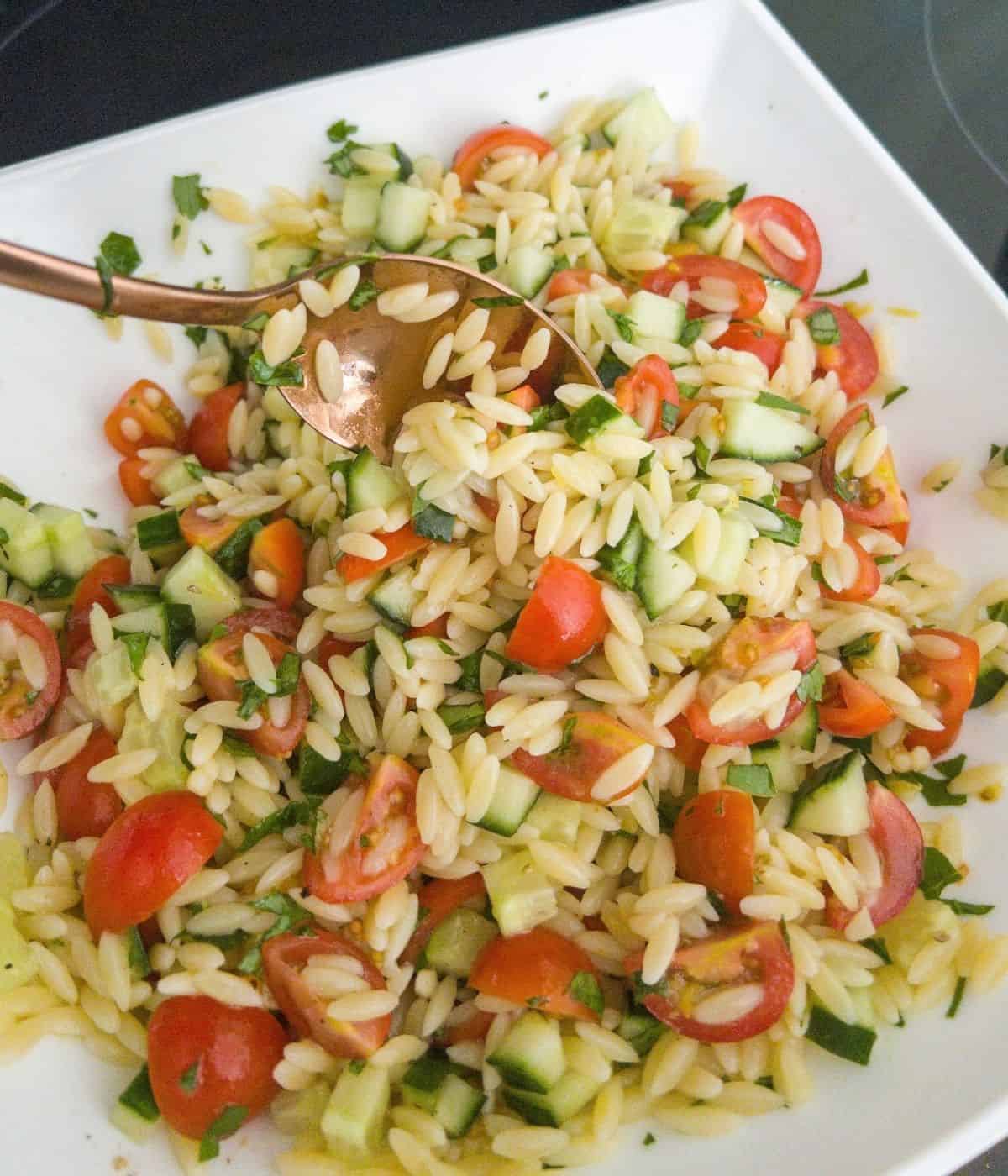 Pasta salad is a summer staple. Served alongside a BBQ or picnic, it screams sunshine!
I love pasta salad so much, you can eat it hot or cold and add whatever ingredients you fancy to it!
It's also a great quick & simple dinner dish to serve at any time of year as you can easily prepare it in advance.
A couple of my favourite pasta salads are Chorizo & Red Bell Pepper & Summer Orzo Pasta Salad With Feta & Lemon.
But what goes with pasta salad? Here are some delicious ideas for what to serve with pasta salad to make a complete and satisfying meal.
Jump to:
*Disclosure: This post may contain affiliate links - This means I receive a commission for purchases made through those links, at no cost to you. Please click here for further info*
What Is Pasta Salad?
Pasta salad is a delicious & refreshing dish that typically consists of cooked pasta mixed with a variety of ingredients such as vegetables, meats, cheeses, and dressing. The pasta is usually boiled until it is al dente, meaning it is cooked to be firm to the bite but not mushy. The ingredients are then combined with the pasta and dressed with either a vinaigrette, creamy dressing, or other flavourful sauce.
Pasta salad can be served cold or at room temperature, making it a popular choice for picnics, barbecues, and other outdoor gatherings. It's a versatile dish that can be customised to suit different tastes and dietary preferences and can be made with a wide variety of pasta shapes and ingredients.
What To Eat With Pasta Salad
Here you will find 21 delicious side dishes that are the perfect accompaniment to pasta salad.
There are plenty of meat and fish dishes, along with lots of vegan & veggie choices too!
Lots of the dishes have either dairy-free, egg-free or gluten-free options, as well as dishes free from other food allergens, so there is something here for everyone.
⭐ Meat & Fish Dishes
⭐ Veggie & Vegan Dishes
💬 Pasta Salad FAQ
What do you love to serve with your pasta salad? Let me know in the comments below!