This deliciously creamy gluten free tomato soup is a perfect lunch or dinner to warm you up on a cold day. It's also dairy free and vegan too!
*Disclosure: This post may contain affiliate links - This means I receive a commission for purchases made though those links, at no cost to you. Please click here for further info*
If you live in the UK you may or may not know that the two biggest soup brands Heinz and Campbells both have milk in their canned tomato soup to give it that creamy flavour. If you live in the US, the white and red brand also contains wheat (gluten) as a thickener.
So I set about to create a creamy soup that contained neither and that's where my creamy gluten free tomato soup was born! I also made it dairy free and vegan too, so it is suitable for people with different dietary requirements.
It took a few goes to get this recipe right. I tried adding coconut milk to the soup as this is usually a good replacement for dairy in sauces but I found the coconutty taste overpowered any other flavour and the end result wasn't great.
I then added butter beans instead of the coconut milk and the result was just what I was looking for! The butter beans provided a creamy taste and texture yet still with the sharp tomato flavour shining through.
Butter beans are a great store cupboard ingredient and can be used in such a variety of dishes like my Smoky Mixed Bean Chilli.
You can also add around ½ cup (120ml) of dairy free cream to the soup to make it even creamier!
Everything you need for this soup you will find in your store cupboard and it will be on the table in under 30 minutes!
This soup also works really well as a lunch on the go. Place the soup in a Thermos Flask and it will stay hot until lunchtime so you can enjoy it wherever you are. We use the Thermos Flask loads for my daughter to take soup and dinner leftovers to school for her lunch which she loves.
Jump to:
🍅 Ingredients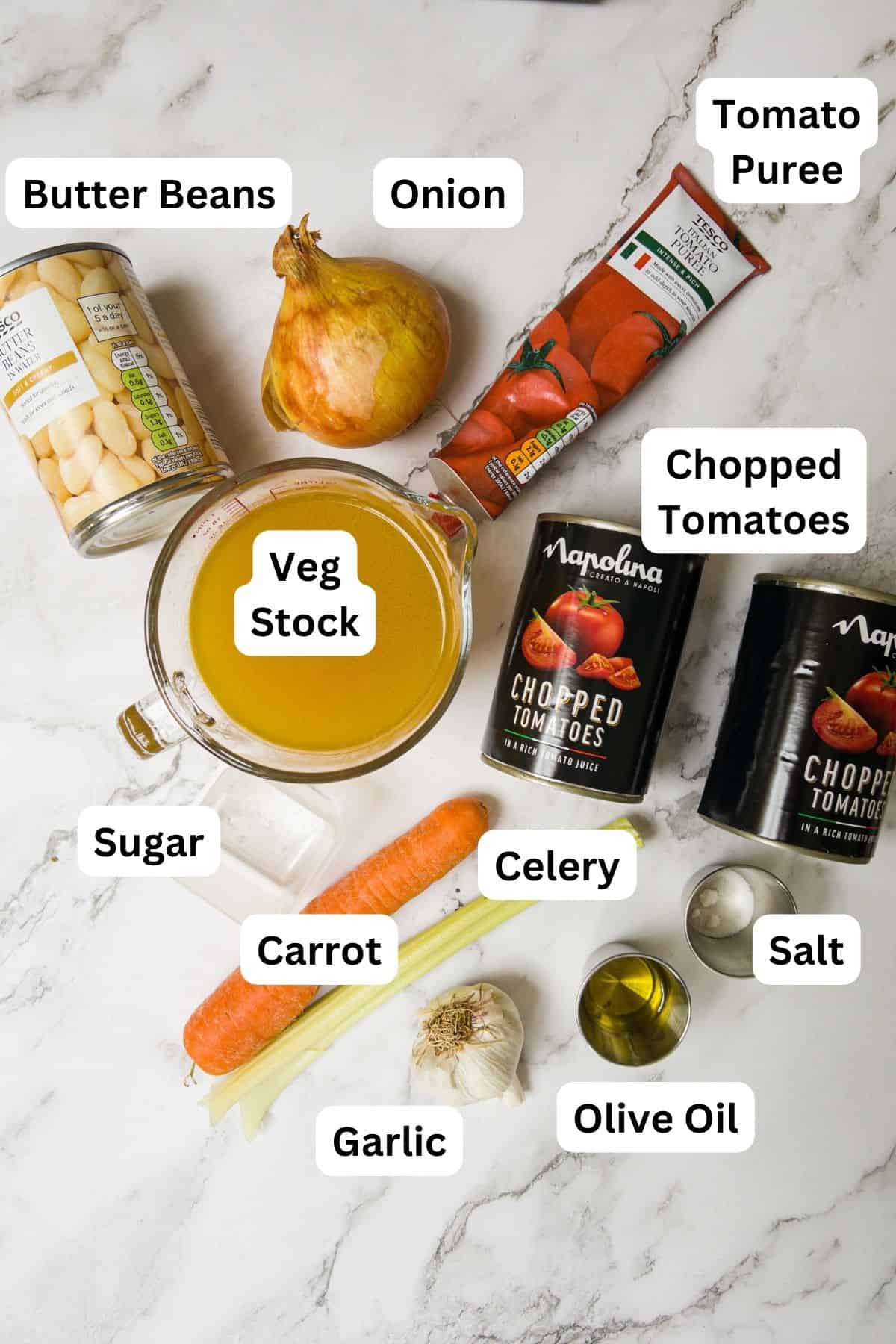 Tinned Tomatoes - Use either whole plum tomatoes or chopped, whatever you have in the cupboard! Try and buy the best quality tinned tomatoes you can afford, you will taste the difference.
Carrot - This is cooked with the onion and celery in the pan to form the base of the soup.
Celery
Onion
Garlic - I love garlic and it's health benefits, it's a great anti-inflammatory and adds a nice flavour punch to the soup.
Vegetable Stock - You will need to be careful with stock cubes or pots as a lot of them contain gluten and milk, I always use Knorr Vegetable Stock Pots, they are gluten and dairy free but do contain celery.
Tomato Puree - Or paste as its known in the US really helps to intensify the tomato flavour in the soup.
Sugar - This helps to balance out the acidity of the tomatoes.
Olive Oil
Salt - If you are cooking for doing children you can leave out the salt and just season your own bowl afterwards.
✋ Be sure to double check all packaging for allergens. ✋
Scroll to the recipe card for quantities.
✏️ How To Make This Recipe
Add the chopped tomatoes, made up vegetable stock, salt and sugar to the pan and bring to the boil.
Dim the heat and simmer for 20 minutes to let all the flavours intensify and come together.
Next you need to blend the soup. I use a stick blender for ease (less washing up!) but feel free to put it in your jug blender. The jug blender will also give you a smoother soup.
It's as easy as that!
⚡ Substitutions & Variations
Use Fresh! - I have used tinned tomatoes as they give as good a flavour as using fresh tomatoes, however if you have a surplus of fresh tomatoes that need using in your fridge, feel free to swap for the same weight of canned. Cut them into small chunks and once the soffritto has softened, add to the pan and let them cook down for 15-20 minutes before adding the stock.
Toppings - Why not swirl a tablespoon of my nut free spinach and basil pesto for a delicious twist!
🔪 Equipment
🍱 Storage
If you have leftovers they will keep in the fridge in an airtight container for around 3 days. Re-heat the soup in a saucepan on a medium heat on the hob for around 5 minutes until piping hot. Alternatively you can microwave the soup for a couple of minutes until hot, just be sure to rest a lid on the top of the container to avoid it spitting all over the microwave!
This tomato soup also freezes really well for up to 3 months. Store in a freezer safe container. When you are ready to eat, leave to defrost in the fridge over night and re-heat as above.
💬 Recipe FAQ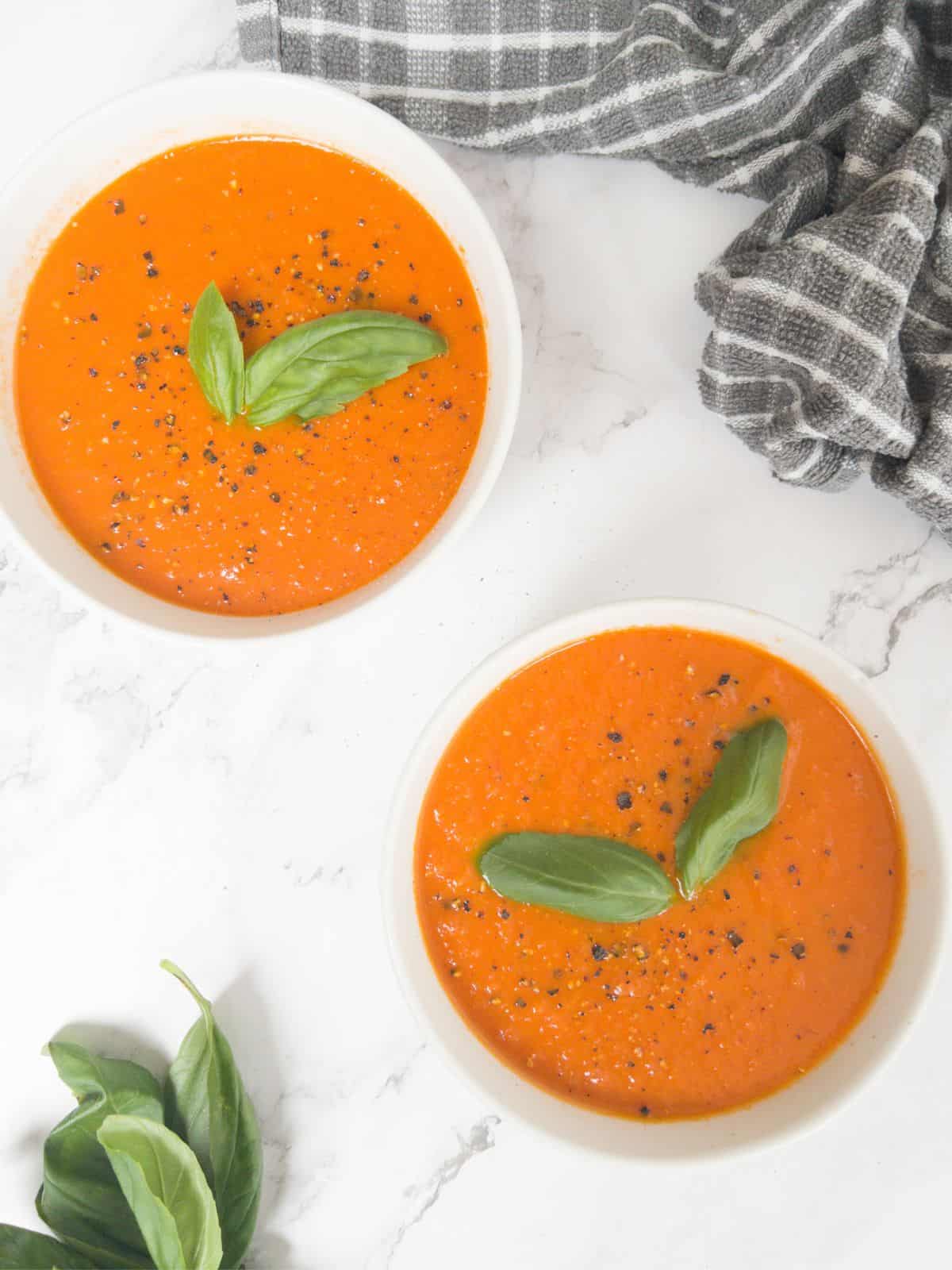 💫 Love this recipe? It would be great if you could leave a 5 ⭐ rating and comment below! Thanks x 💫