This quick and easy chicken jalfrezi is perfect for a mid-week dinner, it can be on the table in under 30 minutes! It is also naturally gluten and dairy free.
*Disclosure: This post may contain affiliate links - This means I receive a commission for purchases made though those links, at no cost to you. Please click here for further info*
In our house a takeaway is a regular occurrence, a bit too regular really!!
However we are trying to cut down and I'm always trying to conjure up healthier versions of takeaways a.k.a the fakeaway and this is where this easy chicken jalfrezi was born.
It is also free from the top 14 allergens (check the ingredients in your mango chutney)
A chicken jalfrezi is my go to curry & this version is so much healthier than your local takeaway and also a fraction of the calories and cost.
It's perfect for a quick mid week dinner, you can even cook double the amount you need and freeze half in the freezer for up to 3 months.
If you team it with a bit of microwave pilau rice (life is too short now to boil rice hey?), papadoms and mango chutney you have your perfect Friday night fakeaway.
This easy chicken jalfrezi uses store cupboard ingredients and is great for using up that green pepper that you never quite know what to do with!
It's super quick and easy to make, ready in 30 minutes - quicker than the takeaway can get to you!
If you are looking for something a little less spicy, why not check out my easy mango chicken curry with coconut milk, its perfect for a midweek family dinner!
How To Make Easy Chicken Jalfrezi
Chop up your green pepper, onion, garlic and ginger. I like my onion and peppers in chunks but feel free to slice them if you prefer.
Pop some olive oil in a pan, once hot add your garlic and ginger to the pan along with all your spices.
Let it fry off for a few minutes to let the aromas of the spices come out, but keep stirring to stop it from burning and sticking to the pan.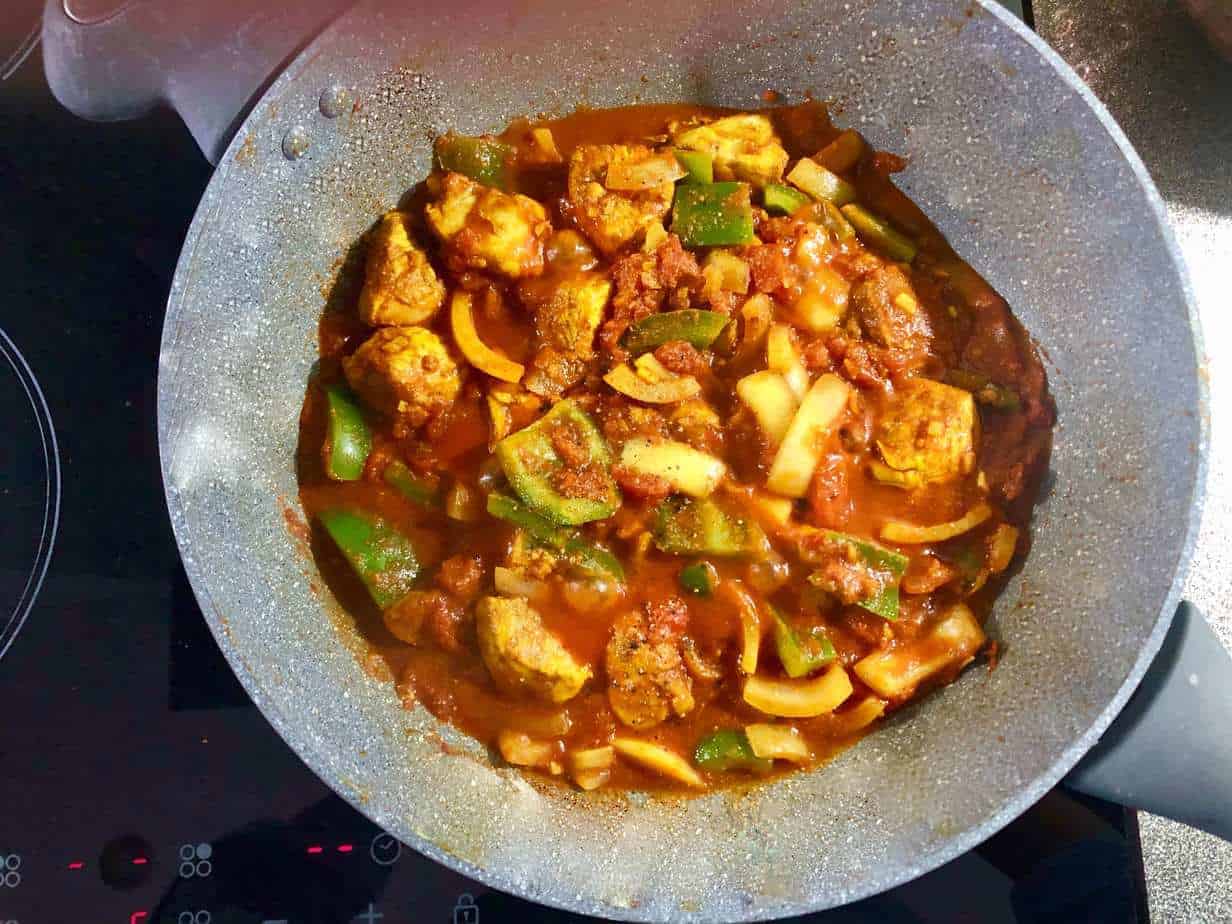 Throw in your chicken. I have used breasts for this recipe but thighs would work just as well. If you use thighs feel free to cook it for a bit longer as the thighs do not dry out as much as the breast.
Add your peppers, onion and chilli, give it a good stir. After a few minutes add your tin of chopped tomatoes. Another good stir and leave to simmer until the chicken is cooked.
A really good tip is to stir in some mango chutney once the curry has finished cooking. It gives a nice tang and a touch of sweetness to the curry.
PLEASE DOUBLE CHECK ALL ALLERGENS ON YOUR PACKAGING
Check Out Some More Easy Dinner Recipes
Kids Chicken Teriyaki Style Noodles
Dairy Free Chicken Potato Topped Pie
Dairy & Egg Free Homemade Chicken Goujons
FREE FROM
Gluten
Crustaceans
Celery
Eggs
Fish
Lupin
Milk
Molluscs
Mustard
Tree nuts
Peanuts
Sesame seeds
Soya
MAY CONTAIN
Sulphur dioxide and sulphites ( CHECK THE PACKAGING OF YOUR CHOPPED TOMATOES AND MANGO CHUTNEY)
Easy Chicken Jalfrezi
Who needs a takeaway? This chicken jalfrezi is super easy and is on the table in 30 minutes - quicker than the takeaway can get to you
Ingredients
1

Tablespoon

Olive oil

4

Chicken Breasts

Diced

2

Cloves

Garlic

Thumbsized

Piece of Ginger

2

Teaspoons

Turmeric

3

Teaspoons

Cumin

1

Teaspoon

Garam Masala

2

Teaspoons

Ground Coriander

1

400g

Chopped tomatoes

Canned

1

Onion

Coarsely chopped into chunks

1

Green Pepper

Coarsely chopped into chunks

1

Heaped Tablespoon

Hot Mango Chutney

1

Sliced

Red chilli

½ in curry ½ to garnish

A few

Stalks

Fresh Coriander

To garnish
Instructions
Finely chop the garlic and ginger. Coarsely chop the onion and green pepper.

Heat the olive oil in a frying pan on a medium heat. Once hot, add the turmeric, cumin, garam masala, ground coriander, chopped garlic and ginger and fry off for 2-3 minutes.

Add the diced chicken, onion, green pepper & half of the sliced chilli, mix and fry with the spices for 2-3 minutes.

Add a can of chopped tomatoes, stir and simmer on a low heat for 15 minutes or until the chicken is cooked.

Stir in the mango chutney. Garnish with the remaining chilli & fresh coriander

Serve with pilau rice, papadums and mango chutney.
Nutrition